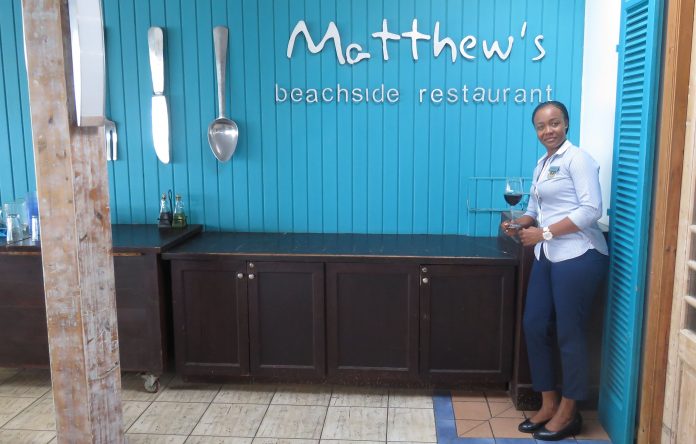 Casa del Mar Beach Resort & Timeshare offers you paradise: an oceanfront location on the white, sandy Eagle Beach, the amazing blue-green colored Caribbean ocean, wonderful luxury oceanfront or poolside timesharing suites and a world of amenities like a spa, restaurants, a pool and a gym. The three food ans beverage venues within the resort offer a world of variety and that special attention for the guests. The woman behind the steering wheel here is Jonnique Philips-Lake, General Manager of Matthew's, Santos and M's Crepe Shack.
She is calm, professional and gives the credits of the restaurant's success to her staff. "The strength of my team and me is the people. You start and end with each other, positivity is number one. I believe in transmitting good energy; meaning that everyone is listened to even if we do not agree." Their slogan 'We Are Matthew's' is made up by the staff and expresses the family feeling, compassion, communication, trustworthiness, friendliness and customer service they stand for.
Variety is the Spice of Life
Jonnique has been working in the hospitality industry for eighteen years already, and more than seven years with Matthew's. She is a self-made woman that worked her way up from cocktail waitress to bartender to supervisor to GM.
"I don't like my job, I love my job. It has become part of my life. When I wake up in the morning, I already think what I am going to do in a very easy way, not stressful. I love talking to people, staff or guests. You don't know what will happen as every day is different." She has met so many people and these relationships continue and make the job unique. "Guests even come here at the restaurant looking for me. We know our guests; we also take notes and keep it in a folder. We love to take care of all the details for them."
She considers the job as a lifestyle, a part of her. "The managing job is just to observe and see things, not only from your perspective but from the angle of the employee too. You are standing out and looking in."Jonnique manages over 50 employees with everyone having their different characteristics and believes but they become one when they are here, she says. "Our goal is similar as in the satisfaction of the guests."
Top Three
Restaurant Matthew's, coffee shop Santos and M's Crepe Shack are located on the premises of Casa del Mar Beach Resort & Timeshare and part of Dushi Hospitality Group.
Matthews's is a family restaurant with stunning ocean view wherever you sit and a nice breeze flowing in. Jonnique: "Matthew's stands pride in its success for eleven and a half years already. Since two years Santos is added, a coffee shop concept with the focus on great service as well. It is a place to unwind early in the morning from 6 AM or end your day relaxed until 9.30 PM. It's not only about coffee, there are fresh soup bowls, served in a bread ball, fresh sandwiches and pastries, a wide tea variation and even wines."
M's Crepe Shack is located on the poolside of the resort and open from 7 AM to 5 PM serving smoothies, frozen coffees and most popular: crepes. The choice is big whether you choose the savory or the sweet, the Nutella with bananas or the ham-cheese, brie and salmon, it is up to you. "We also started with the Goshen smoothie, prepared with locally grown cucumbers. We choose for sustainable products and support of the local community." The guests make them stay on top of things too, it is a chemistry that works out great. "Many guests are time share owners of Casa del Mar and they are like family with the good and the bad. Constructive criticism helps us stay keen on all details."
Jonnique's passion is empowering people and that energy is most definitely a remarkable asset to make their slogan 'We Are Matthew's' a reality on a daily base.