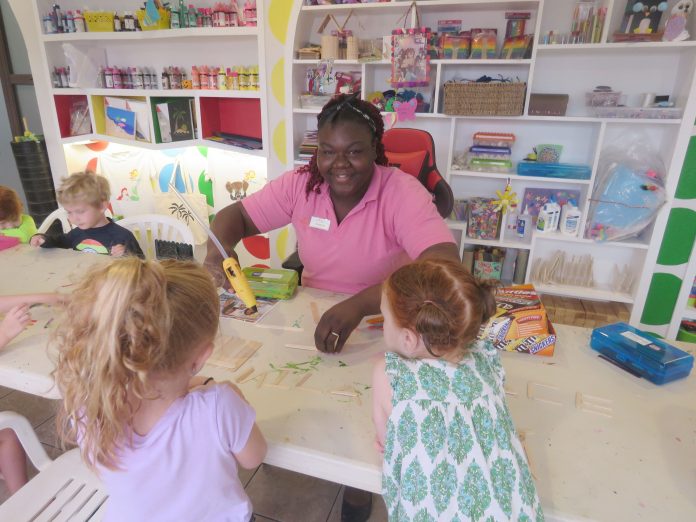 Casa del Mar Beach Resort & Timeshare offers you paradise: an oceanfront location on the white sands of Eagle Beach, the amazing aquamarine Caribbean ocean, wonderfully luxurious oceanfront, or poolside timesharing suites with a world of amenities like a spa, restaurant, and a fitness center. There is one room at the resort that is so colorful and jolly it makes you feel its happy energy at once. It is the kid's activity center, run by Vanessa Burke.
When observing Vanessa with 'her children' the most obvious is the natural flow they have together. She is calm and funny and the children connect with her in a very soft way. "She is really nice," says Olivia. "She is sweet and does fun things," says another girl. To Vanessa it is all about loving the job. "The kids are the favorite part of my job. They are all champions to me and I get to see most of them every year so I see them grow up. I have adopted 63 kids," she jokes.
World of things.
The activity center offers a world of fun things to do for the little ones. From Monday to Friday the kids can do canvas painting, water games, T-shirt and bag painting, slime making or 'build your own ice cream monster'. That is not all, there is more to jump into so step inside and meet Vanessa. "I love searching on Pinterest to find trends and popular activities to do with the kids. Slime is a hit now so that is included in my program. On Fridays we have a movie with pizza or popcorn. And to offer a local touch the children can learn some basic Papiamento on Tuesdays." The complete activity overview is to be found on the website under the button 'more' and 'activity'. "On special occasions I organize events for example with Dia di Betico, Valentine's Day, on the 4th of July, Christmas and Hanukkah. I like to make our guests feel connected to the local community," says Vanessa.
Besides the children's activity center there are more fun things to participate in at the Casa del Mar Beach Resort & Timeshare. Relaxing and healthy is the seated yoga, dynamic and fun are the salsa lessons or would you rather do your workout in the pool with water aerobics? Try some abs & stretching or test your voice during the karaoke happening. "Our bingo is a life or death thing," Vanessa says laughing. "The Grand Bingo sometimes adds up to $ 6.000 so you can imagine…"
To be as one.
The resort makes sure you enjoy your stay to the max and that in the opinion of Vanessa also applies to the way they treat their employees. "Casa del Mar Beach Resort & Timeshare is a second home to me. The colleagues treat you so well here. They are kind and show you respect. They are open to suggestions and feedback and they support me. It is very important to be as one and get to know everyone individually to relate to them because we are a small resort. When someone is in a bad mood, you have comprehension. You give each other a hug and its okay. We of course have our differences now and then, but essential is that we care."