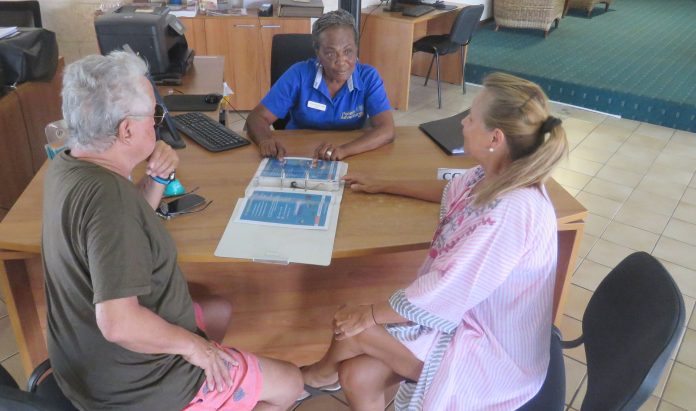 Casa del Mar Beach Resort & Timeshare offers you paradise: an oceanfront location on the white-sands of Eagle Beach, the amazing aquamarine Caribbean ocean, wonderfully luxurious oceanfront, or poolside timesharing suites with a world of amenities like a spa, restaurants, and a fitness center. To arrange for dinners, tours or boat trips they have a wonderful lady in the house: meet Joan Patricia Clarke or Mama Jean.
Mama Jean is taking care of you. It could be a slogan for a commercial, but actually that is the feeling she gives you. The concierge of Casa del Mar Beach Resort has quite some experience built up in the past, and she is a calm presence, knowledgeable in actions. Do you need a dinner reservation? Mama Jean knows where to go. In for a tube ride, banana boat ride or scuba diving? Mama Jean has the answer. Just want to relax on a catamaran and enjoy the amazing sun set of Aruba? Mama Jean will sign you up for the exclusive cruise for the resort's guests. There is much more, but you will need to stop by her desk and hear her out.
The Right Match
"About five years ago we started the collaboration with Pelican Adventures here at Casa del Mar. I am their representative for all the activities they offer, and besides of that I arrange for dinner reservations," Mama Jean says. She is a kind of "human information booth," she needs to make sure she has the answer to requests for leisure activities. "And if I don't I will make sure to find out." Important is to create the right match. "Sometimes guests want to book an activity that is not really thought through. By informing them properly they will be able to make the right decision. If it is your first time in the island, you may prefer a tour instead of private rental. But if you are a repeater you may know the island better than me, and take a ride yourself," she laughs. She needs to know what's going on in the island. "You have to do the extra work. We work very closely with other concierges of hotels as well. I read the newspapers, Google and learn from the guests." Apart from the water sports; island tours; sunset and snorkeling tours; horseback riding; UTV's and ATV's tours; bus tours and jeep tours the Casa del Mar provides an extra service at the airport with preparing the boarding passes in advance to gain clearance.
Mama Jean loves people which are why she does this job. "The smile on their faces when you think you have done a good job gives so much satisfaction. I want to live up to the expectation. You need to feel people. In every walk of life you find different people, and that is challenging. Here at Casa del Mar we have guests that come in for 40 years already, and you know their kids who hug you when they see you. There is a strong connection."
Jean's Journey
When she was 30, she arrived from Jamaica by boat. "The Pelican Adventures at that time Pelican Watersports brought a schooner to Aruba and they were looking for someone to come up sail the boat, and take care of the crew. And once the boat was here to work as a hostess. That was me." During the day she sailed with tourists, and in the evenings she took care of the captain and the crew. "I was the only woman on board."Every day, except Monday Mama Jean was free. "The directors and their family had become my family. Their kids are like my kids. From the beginning they took me in, so I never felt lonely. This I will never forget in my life." No matter what phase she went through in her life, she always stayed connected to Pelican Adventures. Now, at Casa del Mar she feels great, she is doing what she loves, but she has been in a different game before. "In this world sometimes survival is a game, and you cannot doubt and learn to adapt to the circumstances." q