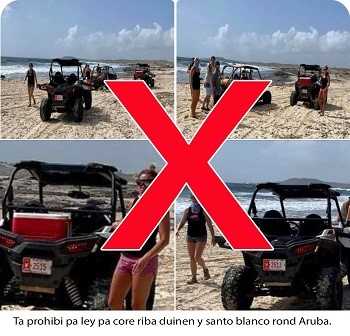 This week, the Prime Minister of Aruba, Mrs. Evelyn Wever-Croes met with different departments resorting under the Ministry of Infrastructure. In this first meeting, the Prime Minister instructed the departments to submit their proposals to address the ATVs and UTVs issue.
The departments present at the meeting were:
Department of Public Works (DOW)
Department of Infrastructure and Planning (DIP)
Department of Technical Inspection (DTI), Police Department (KPA),
Department of Nature and Environment (DNM)
Department of Public Transport (DTP)
It is a known fact that these UTVs and ATVs cause harm to our nature and the community became less tolerant of this. These vehicles destroy nature in Aruba. In the past, the authorities urged the permit holders to adhere to the instructions when driving these vehicles. They made awareness videos and published articles in the media about this subject. However, the time has come to reset a few things. The aim of the government is not to exclude this kind of development. The prime minister is aware that there is a group of adventurous tourists that like to do these kinds of activities in Aruba. The Prime Minister is also aware that everyone is trying to make a living, which the Government is stimulating. However, it is imperative to recognize that it is also essential to protect what we can not recover and the damage caused by these vehicles is irreparable. Unfortunately, two weeks ago, another set of photos circulated on social media portraying unacceptable behavior with these vehicles and causing consternation.
What can be done?
The Government has already prepared the spatial development plan/spatial development plan with regulations (ROP/ROPv) which will be published on September 1, 2021. One has to be within the margins of the law to be able to regulate this. The Prime Minister urged the relevant department to brainstorm and present possible regulation solutions. The Government is aware of the different aspects of concern for each of the departments. The DTI is responsible for the inspection of all these vehicles, the DIP is responsible for the ROP/ROPv while the DOW is responsible for the  "Aruba's Outdoor Amenities Economy" which is in line with the new economic development that the Government wants to introduce. The government's starting point is the protection of nature. Now they are awaiting the proposals of the departments for a possible solution.