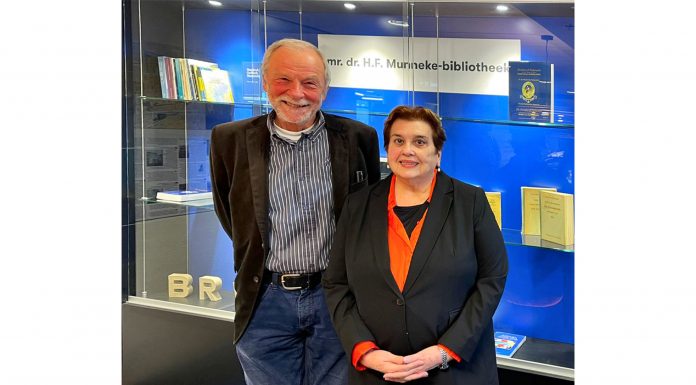 At the Haagse Hogeschool a special ceremony took place on the 15th of December, Day of the Kingdom (Koninkrijksdag), during which interim director of Aruba House, drs. Glenda Hernandez inaugurated the mr. dr. Harold Munneke Library.
On this occasion, Mrs. Hernandez said she is honored to be part of the ceremony. "Mainly if we see the unique and close relationship between Harold Munneke and Aruba. He made a big contribution to Aruba's Constitution. His interest and passion for the islands in the Dutch Caribbean, particularly Caribbean political rights, is enormous. His contribution to Minor Koningkrijkszaken showed his involvement with everything regarding the Kingdom of the Netherlands. That Mr. Munneke made his literature collection available, and that Haagse Hogeschool created a special place for it, is something to be admired. This makes it possible for the Kingdom of the Netherlands to continue living under a future generation", Glenda Hernandez said.
Following her speech, Mrs. Hernandez and Mr. Munneke cut the ribbon and this way made the inauguration official.
Photographs are courtesy of Aruba House.