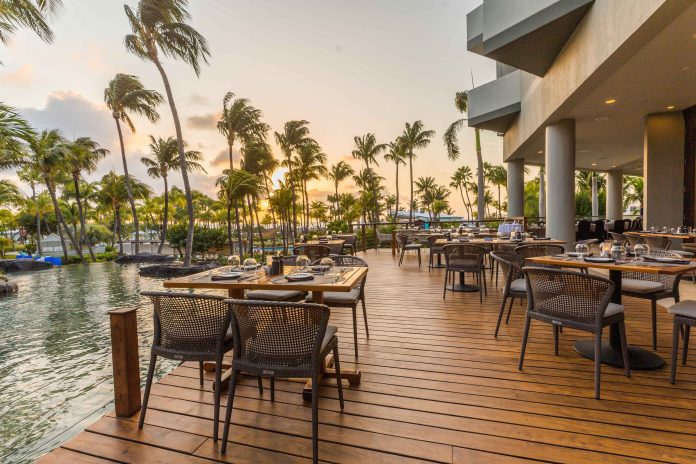 The festive season opens at the Sunset Grille at Hilton Aruba Caribbean Resort & Casino with an enhanced three course Thanksgiving dinner on Thursday, November 26th, 2020, at $48 per person. The resort's wine sommelier has also prepared an excellent wine pairing to go along with the delicious food.
The classic Thanksgiving dinner includes old-time favorites that never change, the culinary brigade has given them a contemporary twist.
The menu, put together by French-trained Executive Chef Matt Boland and French-born, Sous Chef Katia Soujol, offers patron a great opportunity to dine out and be grateful, after almost eight months of home-cooking and partial social isolation.
Patrons may choose Pumpkin Soup with Caribbean Lobster, Crispy Pancetta and Fresh Thyme or Steakhouse Wedge Lettuce, Bacon, Roma Tomatoes, Gorgonzola Chunks and Blue Cheese Dressing, as appetizers.
A plentiful platter of Roasted Vermont Turkey and Glazed Virginia Ham, Sausage Sage Stuffing with Turkey Gravy, Garlic Mashed Potatoes, and Baby Vegetables or as an alternative Grilled Salmon with Dill Buerre Blanc, Forbidden Rice, Charred Brussels Sprouts and Bacon, as main courses.
The noteworthy Thanksgiving Trio Dessert featuring Mini Pumpkin Cheesecake – Spiced Chantilly Crème, Old Fashioned Apple Pie and Southern Pecan Pie, sweetly conclude, the culinary experience.
The Sunset Grille sommelier has carefully selected a number of wines by the glass to pair with the food: Seven Falls Chardonnay, Chateau Ste Michelle Riesling, H3 Horse Heaven Hills Merlot and Seven Falls Cabernet Sauvignon, at $12 a glass.
Dinner may be enjoyed outdoor on the wraparound terrace overlooking the waterfalls, or in the air-conditioned dining room.
Reservations can be made at hiltonconcierge@depalmtours.com or by calling +297 526 6612. All prices are subject to 18% service charge. Q