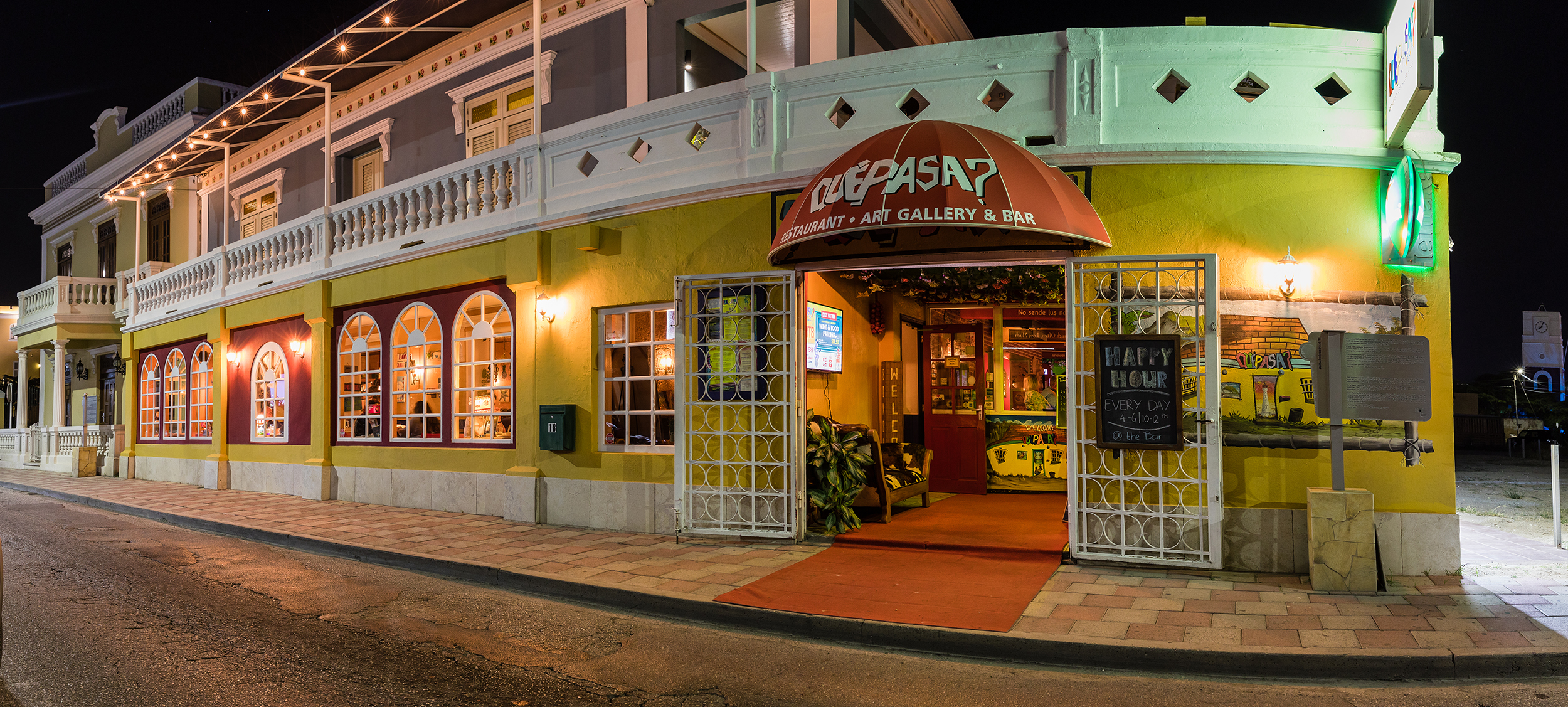 ORANJESTAD ― The new menu of Que Pasa Restaurant in the Wilhelminastraat is chock-full of absolutely irresistible options. This chef goes out of the box in a truly spectacularly creative manner. The quirky, relaxed restaurant can compete with the best with this menu, which combines culinary influences from countries near and far. Of course you'll start with a cocktail, such as a spiced pineapple mule, a Jagerita, a Blue Heaven, a cucumber and basil gimlet, a Mutual Friend or the Disaronno Sour. Cheers!
And then you are presented with the menu. The appetizers listed are onion soup, tomato soup and bouillabaisse, a fish platter, a tapas platter and the chef's surprise platter. But there is more to choose from: a lovely European salad, crispy frog legs, bacon-wrapped goat cheese, carpaccio, fried brie, ceviche, calamari, flatbread, a Caesar salad, escargots, a Cuban taco and spicy shrimp pil pil.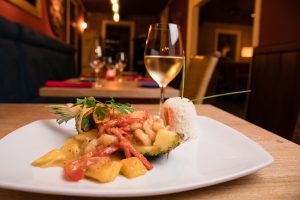 Of course Que Pasa is hoping to tempt you to try all its delectable main courses. Not in one seating, of course: no, you'll have to come back many, many times. Just to give you an idea what to expect: you can choose the farmer's schnitzel, the kangaroo tenderloin, the chicken cordon bleu, the skirt steak, the vegetarian truffle pasta, the mixed grill, the Caribbean grouper, the lasagna alla forno, the braised neck of lamb, the tuna pepper steak, the pork shank, the shrimp piña colada, the Peking duck or a tenderloin steak with additional sides such as pasta, rice, plantains, a side salad or mac 'n cheese, veggies, the potato of the day, herb risotto or asparagus. A pitcher (or glass) of Sangria, made with red, white, sparkling wine or rosé will go terrifically well with everything listed above. The Sangria Deluxe should be tried to be believed.
And one should order one or two (!) of the desserts. Just let your mouth say what you desperately want: the omelette Siberienne (baked Alaska), the coconut vanilla cheesecake, the white chocolate Amaretto mousse, spekkoek, an Indonesian delicacy, chocolate lava cake or a cheese platter.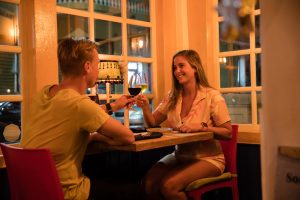 To top it all off there is coffee, cappuccino, latte macchiato, tea, Spanish, French, Italian or Irish Coffee. Or the Que Pasa Coffee, which is made with Dom Benedictine, Cointreau and whipped cream.
We would like to wish you a wonderful evening at lovely Que Pasa, which opens its doors at 4 pm every day of the week. You will find free parking on the side of the brightly painted, yellow building. Bon appetit!q