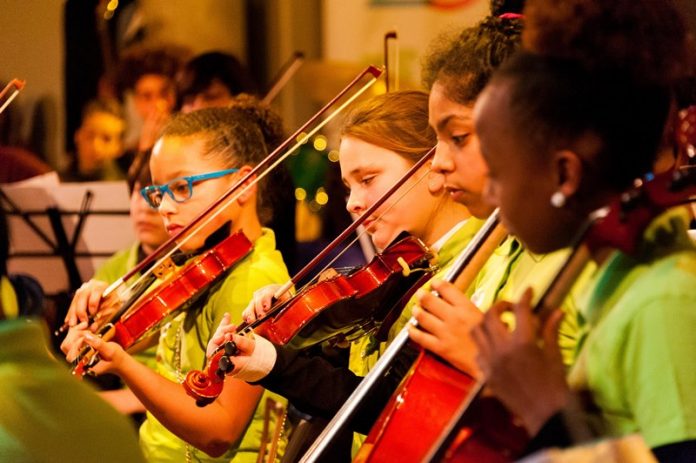 These last few weeks there have been many positive developments within the Aruban Music and Entertainment Industry. As we know, the renowned and widely known Caribbean Sea Jazz Festival (CSJF) that took place for 12 consecutive years on Aruba, did not take place this year due to limited sponsorship support. The Aruban community did not take this news well and couldn't bear to have it passed, so the organization of the CSJF took a challenge upon them and organized a different type of festival with another name and a different location. On another note, last week we took notice of a tremendous accomplishment for the community of Aruba. The "Leerorkest" Program which currently is being executed in Bijlmer, Amsterdam is starting a pilot program in Aruba this week. Now, Aruban students will get access to music education and development in elementary school. Both the Casibari Jazz Festival and the Aruba "Leerorkest" are remarkable and important developments on the island, in order to strengthen the Aruban Creative Industry and inspire the next generation to appreciate the development benefits of music and art.
The Premier of the Casibari Jazz Festival 2019.
It was last week on September 20 and 21, that the CSJF transformed into a two-day Casibari Jazz Festival (CJF) and became a festival to remember, considering its fantastic ambiance and musical talent performance. For those who don't know, the Casibari rock formation is a unique Aruban heritage site with a cozy local feel. For some time now there have been many music performances at this location and the community is appreciating this. In the eyes of the CJF organization team, this was thus an ideal backdrop for a reinvented music festival where Jazz, Blues and Latin music could fill the sultry night air with smooth rhythms. Some time ago I elaborately discussed the positive implications of Music Festivals on the success of the Creative Industry. Even though the CJF was in a smaller setting than before, it is opening a new market for more intimate and heritage-based festivals. This is something we are used to and haven't seen in some time. Some of the artists and musicians that performed last week included AráCaribbean Jazz Sextet, Oruba with Reno Steba, and our local talent Robert JeanD'or who accompanied the great multi-instrumentalist and composer Tony Succar. Other international acts included Tania Kross from The Netherlands who sang together with Randal Corsen from our neighbor island Curaçao, followed by Count Tutu with Michael Bremo from the US, and lastly, Antonio Bello from Spain. The hopes remain that the CJF will remain and grow in the years to come. Delighting the island with tremendous music and artistic talent, with local and international.
The Aruban "Leerorkest" is Official.
Now, with the understanding that music and art are backbones of our culture, it would make sense to think that our children should grow up in the richness of the Aruban culture. A culture that is rich in creativity, artistic expression and diversity. Music education is not common in the Aruban school system. In high school students get access to some forms of artistic development, but because of budget constraints this is also very limiting. Studies have proven that music and art education is vital for a child's personal development. Using this train of thought the famous "Leerkorkest" was created in Amsterdam. Back in April the representative of the "Leerorkest" in Amsterdam together with a local music teacher, Johny Croes met with the Minister of Education and the Minister of Justice to consider expanding the program to Aruba. The idea of the program is to provide music education during school hours so that all children, especially for those who can't otherwise can learn to play an instrument. The goals of the program is to fight the challenges communities face and to create a positive impact. Because of the program crime rates have decreased, more children finish their education and get the second chance of developing their talents.
The Amsterdam "Leerorkest" has been transforming lives of children for over 12 years already. A total of 3000 children at 18 different schools are part of this growing program in the dynamic city of Bijlmer, which is known for being a city with increasing socio-economic challenges. The city has been trying different methods of improving the lives of families and children. Now, because of the "Leerorkest" program, all 18 participating schools have their own orchestra and students from all ethnic and socio-economic backgrounds are equally represented and are equally provided the opportunity to shine. Interestingly, Curaçao also implemented their own "Leerorkest" program two years ago and they have also seen the positive impacts of it. Now, it is finally Aruba's turn. This week on September 23rd the pilot program started at four different schools guided by four Aruban music teachers, which include: Jane Lanooij-de Cuba, Mayra Kock-Garrido, Tica Giel and Jaderick Croes. The program will be supervised by Croes himself who is the initiator of the project and has been fighting for this program to become a reality on Aruba. Croes stands by his belief that the Aruba "Leerorkest" will have a big educational, cultural and preventive judicial impact. In the midst of the social crisis Aruba is facing at the moment, we owe it to our young ones to equip them with the opportunities for them to grow and develop themselves. Music and art have proven to help children develop creative kills, innovative skills, problem-solving skills, diversity, open-minded critical thinking, expressive skills, respect, discipline, responsibility, teamwork and unity. All-important characteristics they will need to succeed in life and on the job market.
Moving Forward.
Small beginnings can have powerful impacts on a society. Having setbacks and encountering challenges are what make these evolvements so worth it. More festivals and more children playing instruments are what can solidify the Creative Industry not only now but for the future. The Creative Islander wishes the CJF all the best with the preparations of the next event. Also, we wish the Aruba "Leerorkest" all the best with the four pilot projects on Aruba. We extend an encouragement to the Aruban community and all visitors to attend and support these programs and festivals. With our continuous support the Aruban Creative Industry will flourish.
Biography – Currently, Thaïs Franken is a 24-year-old Aruban student at the University of Maastricht (UM). She is studying a Master of Science in Public Policy and Human Development in collaboration with the Unites Nations University (UNU). Back home, on the beautiful island of Aruba she completed her Bachelor of Arts in Organization, Governance & Management (OGM) at the University of Aruba (UA). She successfully graduated and defended her thesis titled "Placing Culture and Creativity at the Heart of the Aruban Sustainable Development" on July 6th 2018. Thaïs is very passionate about topics such as sustainability, innovation, culture and creativity. Next to her academic interests, she enjoys reading, writing, dancing and cooking.