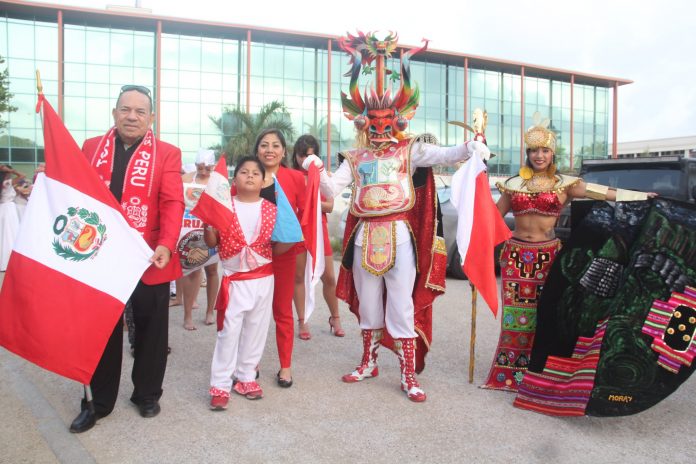 Today, 28th July 2022, Peru is celebrating its 201st Independence Day. In a telephone interview from Peru, Giovana Tapia-Guzman, Peru's Consular Coordinator in Aruba told us about this great celebration, and also shared a bit regarding her ties to Aruba.
Tapia-Guzman has been living in Aruba for 30 years, doing the work of Consular Coordination for 17 years already. Aruba doesn't have an established Peruvian consulate; when she started in this position, the Consular Coordination was under jurisdiction of the General Consulate of Peru in Venezuela, but because of the crisis in Venezuela, the jurisdiction was changed and now it's under the General Consulate of Peru in Panama.
Every year, the Peruvian community celebrates the 28th of July, Peru's anniversary, one of the biggest celebrations for Peru. This year marks 201 years of independence.
Tapia-Guzman says that for this great day, normally the Peruvian community in Aruba organizes a gastronomic fair. This year, from what Tapia-Guzman understood, a sports group took over the organization of the celebrations. The group consists of Peruvian residents who organize soccer championships, in order to organize a celebration to honor their country.
She explains that normally the Peruvian flag is raised here as well, which the Government of Aruba allows them to do. But because she had to travel to Peru for an emergency this year, she did not receive an invitation for the raising of the Peruvian flag like all the previous years.
The community would normally also organize a mass in honor of Peru, but she said she was not aware if this was going to take place this year.
It is known that on this special date, Peruvian folklore and cultural groups in Aruba come out to perform cultural dance of this country. The Consular Coordinator explained that in Aruba there are two groups who bring Peruvian culture through various activities in Aruba. One is the Fundacion Fiestas Patrias Peruanos, and the other is Takiri Folklore Peru.
Tapia-Guzman has been in charge of the position of Consular Coordinator for Peru in Aruba for 17 years, and she says that the group Takiri Folklore Peru started practically together with her, incentivizing all Peruvians residing in Aruba to help show more of Peruvian culture in each activity to which they were invited.
Fiestas Patrias Peruanos in Aruba is a new foundation, which also presents traditional dance, and it's a foundation that during the last few years has become very popular in their presentations of Peruvian culture.
As she mentioned above, Tapia-Guzman arrived in Aruba 30 years ago. She said that she first came to Aruba on vacation, and it was during this vacation that she met her future husband, who lived in Aruba back then, and that's how she decided to stay on the island.
Tapia-Guzman studied international commerce and has two children, one of whom is studying in the Netherlands, completing their Masters, and the other is currently studying VWO at Colegio Arubano.
To finalize, Tapia-Guzman sent a message as Peru's Consular Coordinator in Aruba to the entire Peruvian community on the island. "I invite the entire Peruvian community to always show our education in order that each day we can also have a better life in Aruba. That we can integrate with the Aruban community, which is ideal for us all to live well, to live in peace, to live in community. And I wish my community, from the distance, a happy national celebration, that they may show our culture, our gastronomy, in order to motivate the Aruban community to also know Peru."