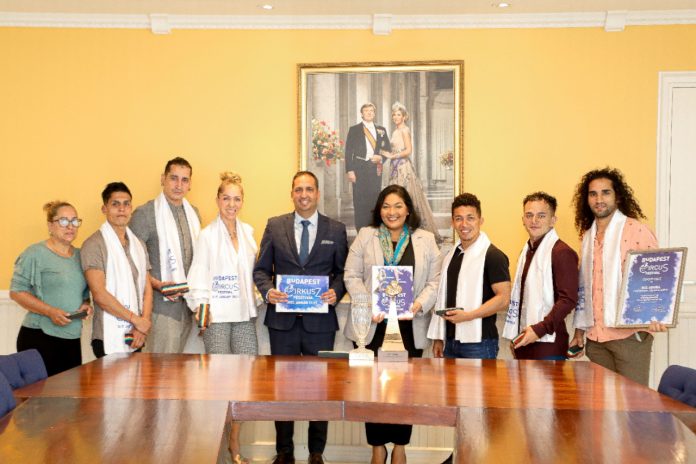 Aruba shone bright once again on the international stage with a beautiful presentation by the acrobatics group RCC Aruba, in the much beloved program America's Got Talent (AGT). For the first time, the name of Aruba was heard in the show. The whole island could watch with pride as Aruba's flag waved on a world stage, in a show with a big worldwide audience.
Who is RCC Aruba
RCC Aruba consists of Aruban dancers and Colombian, Cuban and Venezuelan acrobats. Acrobats from various countries who made Aruba their home. Since 2010, RCC Aruba performs in various hotels here on the island.
Minister of Culture, Xiomara Maduro commented that for a long time, RCC Aruba has been promoting our island on the international stage. In 2019, RCC Aruba started taking part in international circus festivals. RCC Aruba participated in China International Circus Festival in 2018, and gave a performance in three different cities. In december 2020, this acrobatics group gave more than 60 presentations in Budapest, Hungary.
In January 2021, RCC Aruba took part in another Circus Festival known around the world, the Budapest Circus Festival in Hungary. Here RCC Aruba won third place and also won a special prize.
RCC Aruba represents Aruba with a lot of love and pride
The minister of Culture highlights that the beauty of these artists is that in every country in which they perform, the group represents the country of Aruba and carries the flag of Aruba with a lot of love and pride.
Since the presentation of RCC Aruba in Budapest, this group of artists received contracts at world-renowned circuses.
Currently RCC Aruba is in England taking part in the Summer Circus & Water Spectacular in the Hippodrome Circus in London, England. This is a unique circus, since its stage is surrounded by water.
After their performance in England, they will continue in september with presentations in Italy and in october with presentations in France.
In the name of the Government and the people of Aruba, the minister of Culture thanks each member of the group RCC Aruba for loving and representing Aruba so beautifully. "Thank you for promoting and for letting Aruba's flag shine on all world stages during your performances. The country of Aruba is very proud of you, and congratulates you with your qualifying for the second round of audition in AGT. You can count with Aruba's support!"