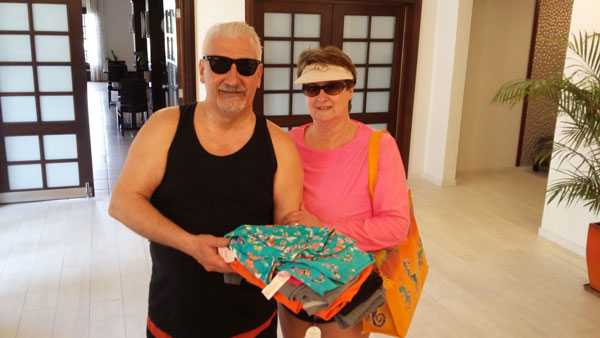 Pack for a Purpose and our home for disadvantaged children, Imeldahof Aruba, appeal to the generosity of our loving guests. Personal grooming items, clothes and shoes (ages six-sixteen) and games would bring smiles to the children of the home. Back in 2015 Aruba officially joined the list of participating countries thanks to the Bucuti & Tara Beach Resort.
The resort joined the Pack for a Purpose program with the goal to help out the Imeldahof children's home  that has the objective: "To offer a temporary home and guidance for children who, for a variety of reasons, are unable to remain in their own homes. In most cases this is until placement with their own family or relatives or a foster family can be found." Children's Home Imeldahof offers shelter and guidance for 52 boys and girls from ages 6 through 17 years old, who due to circumstances cannot live with their parents or caregivers. The reasons are usually mental, physical and sexual abuse, neglect, or substance abuse by parents.
A word from Bucuti's owner
Ewald Biemans, the owner and CEO of Bucuti & Tara Beach Resort: "For as long as I have been a part of Bucuti & Tara Resort – which began over thirty-two years ago – I have taken great pride and pleasure knowing I was part of something bigger and more rewarding than simply a resort hotel operation." While many of the stories published about Bucuti & Tara today involve prestigious awards and accolades, the culture of giving began humbly with our owner and his focus on compassion, community and the encouragement of all team members to participate in giving back.  Their story is similar to Rebecca Rothney, who started with her own delivery of supplies on one trip to Botswana in 1971 to help children in need.  Pack for a Purpose has since grown to deliver to 425 places in 60 countries and we have also seen, first hand, the impact a passionate leader can have.
From opening day, Bucuti started to develop their now award-winning sustainability program to protect the environment, soon after came Tortuga Aruba – the active protection of leatherback sea turtles.  A few years later, a series of animal welfare programs were put into place including Stimami and Sterilisami, the spay and neuter campaign to reduce the homeless pet population, our healthy portions policy with restaurant food waste given to local farmers to feed the pig population and the Donkey Sanctuary awareness and fundraising activities. However, and most rewarding of all is when the team is witness to the smiles and joy of children from our local youth crisis institution "Imeldahof" when Bucuti's monthly deliveries of guests' donations are made as a result of Pack for a Purpose.  The deliveries tell these children, who have often suffered serious abuse and who are so often invisible that, they matter.  They make it clear that we see them…that people from all over the world see them and care about them.
Participation in the amazing Pack for a Purpose organization was born from the passion and encouragement of Bucuti's resort owner for all of them to become stewards of their community and to dedicate some of their work-time to give back.  The guests, however, have done the heavy lifting.  The resort has participated in Pack with a Purpose for several years now and during the last four months of 2018 alone, over 130 Kilos or 286 pounds of clothes, school supplies, clothes and personal items were donated.
The essence of the program
Prepping for travels can be hectic at times, but the pleasures of a vacation make it all worth it in the end. Wouldn't you agree? Once you arrive at your destination you get to relax and enjoy some R&R with your loved ones while exploring foreign lands and dining at fabulous restaurants. What if you could make a positive impact on another person's life, with bare minimum effort, all the while staying on track with your travel plans? If adding a bonus dose of love for your kind heart, all the while indulging in vacation mode, is something that intrigues your thoughts, then the Bucuti and Tara Beach Resort can help you be part of the program. You can give back to the community of the One Happy Island by just packing a bit extra when preparing for your next travels! To see what to pack check out Aruba's official Pack for a Purpose program at the following link: https://www.packforapurpose.org/destinations/caribbean/aruba/bucuti-tara-beach-resorts/. Source: https://www.packforapurpose.org/.