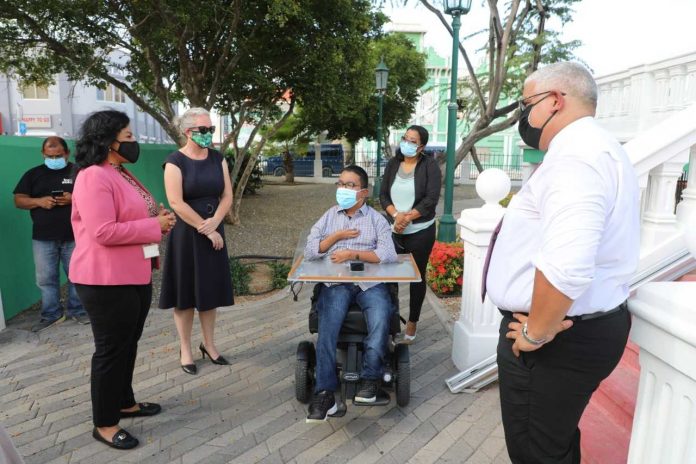 Last year, in accordance with the project "guest of the month" the Monument Fund Aruba (SMFA) organized a meeting with the platform for persons with limitations to discuss topics such as accessibility of monuments. The platform informed that according to a survey held under their clients, the town hall is one of the monuments of Aruba in which they would like to have more accessibility.
On this same date a letter of request had been handed over to SMFA in order for them to examine the possibility to place a stair lift at the town hall.
When it comes to monuments protected by law great interventions and changes are not allowed on their structures, which makes accessibility difficult to execute at times. Each change must be taken into consideration based on the rules and restrictions of the monument to prevent any visual and structural damages to the monument.
After conducting several researches, SMFA concluded that the best option that won't damage the monument structure is the stair lift of Acorn. This is easy to install, does not take too much space and won't bring big changes to the structure of the monument. They submitted the permit to the Monumentsburo, which approved the installation of the stair lift.
During the inaugural ceremony the director of SMFA, Anne Witsenburg, handed over the key of the stair lift to the director of the town hall, Sharin Luydens, in presence of the Minister of Culture and representatives of the platform for persons with limitations. From now on, person with limitations are able to visit the monument easily.
This is the 3rd monument made accessible by the SMFA for persons with limitations. At Nicolaas Store they installed a wheelchair lift and also at Uncle Louis Store in San Nicolas they made several changes to make it accessible for persons who are visually impaired.