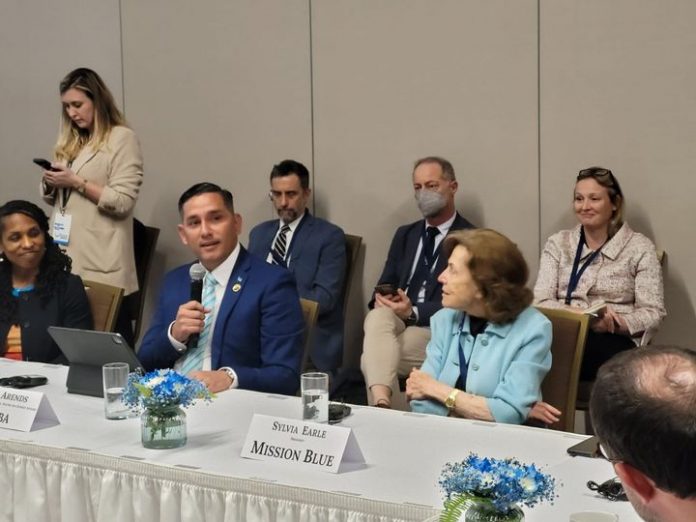 (Oranjestad)—The Our Ocean Conference is a space created for dialogue about collaborations between chiefs of states, the private sector, civil society and academic institutions to discuss how to preserve marine resources, promote sustainability and educate the general public about the oceans.
The conferences took place on March 2nd to March 3rd in Panama. The minister of Environment is a participant in the event Blue Leaders, which was organized by Belgium to open the Our Ocean Conference with this year's slogan: "Our Oceans, Our Connection."
The goal of the event was to encourage support for the Biodiversity Beyond National Jurisdiction (BBNJ), which is designed to protects marine life and resources across international waters.
Blue Leaders called for all countries to seal the deal on BBNJ, with is set to be finalized this year. Implementation of the jurisdiction is essential for the preservation of the ocean's health and productivity, which is vital for maintaining life on earth. The goal is to protect at least 30% of the world's oceans.
As a participant at the event, Minister Ursell Arends presented a promise of Aruba and the Dutch Kingdom to preserve our oceans and protect marine life. Synergy and ambition for efforts that create resilience for resources and marine biodiversity will benefit communities around the world.
Our Ocean Conference focuses on 6 areas of action to protect and revitalize the oceans, for example areas of marine protections, sustainable Blue Economy, climate change, marine security, sustainable fishing and marine pollution.
The ocean is one of the most valuable resources for humanity. The ocean houses 80% of all life on earth, provides food for more than 3 billion people on earth and is a medium for global trading. However, the ocean is at risk due to global warming, non-sustainable practices, illegal fishing, imprudent contamination and loss of marine life.
Panama is the first country in Central America to host this event, which has emphasized the importance for contribution by Latin America in marine preservation and world leading related to the oceans in the last few years.