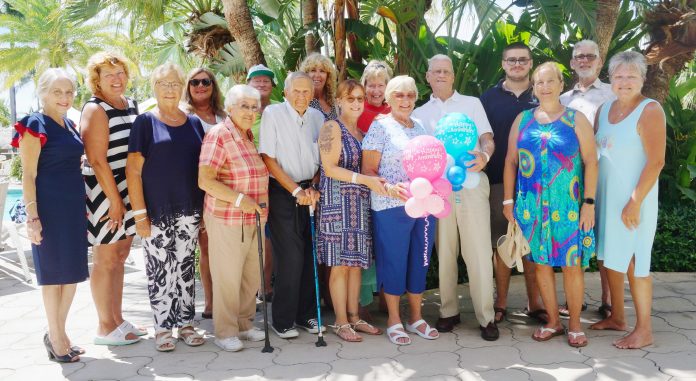 Yesterday we met the wonderful Marie and Norm Whelan, who were visiting with a group of friends and family to celebrate their 60th wedding anniversary. They shared with us their secret to a happy marriage and their love for Aruba.
Marie and Norm Whelan surely know the secret to forging and nurturing life-long relationships.
Marie said they have been coming to Aruba for around 37 years, before they bought a time-share. They love everything about Aruba and have made it their second home, coming with their families – as the families grow and bring new members – as well as a network of friends they have made while on the island. On this visit, they were also traveling with the bridesmaid from their wedding!
And from the beginning, they have built a great friendship with Linda Brokker from the Renaissance hotel, with whom they have shared important moments during the past three decades of coming to Aruba.
Marie told us she has celebrated many anniversaries in Aruba, as it has become a kind of tradition.
As for the secret to a successful marriage? "Say: yes dear!"