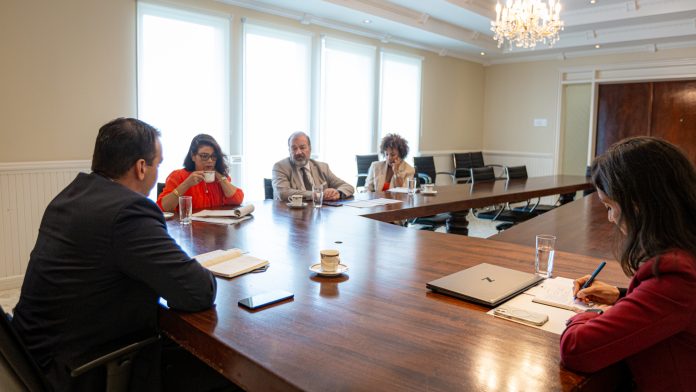 Last Thursday, November 24, minister of Economic Affairs, Communication and Sustainable Development, mr. Geoffrey Wever had a meeting with Mr. Gerardo Noto, resident representative a.i. of the United Nations development Program for Aruba, Curaçao, Sint Maarten and Trinidad & Tobago.
The topics discussed during the meeting were the SISSTEM faculty at the Unviersity of Aruba, and implementation of the Sustainable Development Goals (SDGs).
Minister Wever is Territorial Authorizing Officer of Aruba, in which Wever has the charge and responsibility for the administration of projects with the European Union and regional projects. In this context, Aruba is in preparations to expand the Faculty of Sustainable Island Solutions through Science, Technology, Engineering and Math (SISSTEM) of the University of Aruba with funds of the European Union through the '11th Development Fund'. UNDP together with Catholic University Leuven are also partners in this project.
Minister Wever, as minister of Sustainable Development, and UNDP as part of the United Nations exchanged ideas regarding the implementation of the SDG framework of the United Nations in Aruba. The SDG framework emphasizes the importance of long-term planning and strategic partnerships in the process to achieve the goals. Each country has its own challenges of sustainable development on which to work. This is called "localization of SDGs" – meaning the SDGs need to be translated to the needs of each country.
"I am happy with the partnership that we have with UNDP. It is important for a country to have strong local partnerships as well as internationally to advance common goals", Wever commented.