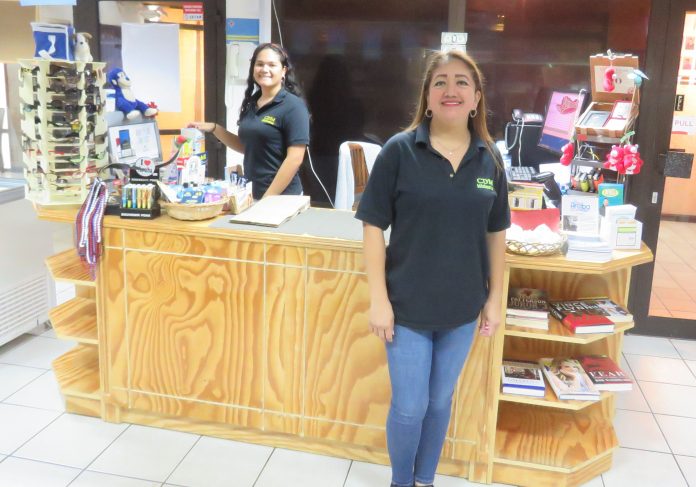 Casa del Mar Beach Resort & Timeshare offers you paradise: an oceanfront location on the white-sands of Eagle Beach, the amazing aquamarine Caribbean ocean, wonderfully luxurious oceanfront, or poolside timesharing suites with a world of amenities like a spa, restaurants, and a fitness center. Convenience is valuable during vacation and Patricia Lau knows all about that. She offers you an all-round mini market, a place that has everything you need. Let's take a look!
Patricia opens the door with a smile, ready to show her store with pride. "Beverages like juices, water, but also liquors; pool toys like the best seller doodles; gelato ice cream in twelve flavors pastas with sauces; sweets; chips; milk and breakfast items… you name it and we have got it." Special requests are not a problem. Or just step inside and let her know what you need, Patricia will get if for you. Here you can still enjoy the personal attention and service of specialist's stores in the old days. This goes beyond big supermarket experience. And you can preorder online before you arrive in Aruba, and she will deliver a box of groceries right to your room.
29 Years at CDM
Patricia explains that she is open seven days-a-week from 9 am until 10 at night. "It is me, my daughter, and two part-time ladies that help me out. But six days in the week I am here, this is what I love to do. I need to stay active and I just love my job. Serving people is what I want to do." You can see that she is happy to be independent and run her own business. She knows what she is doing, which comes from years of experience inside the timeshare resort. "I have been working within Casa del Mar Beach Resort for 29 years already. I started as a restaurant waitress, from there I got promoted to supervisor and eventually manager." After that, she was up to a new challenge and this place had been up for rent a while back then. "My good friend Alan Platt teamed up with me, and together we own this CDM minimarket now."
Favorite Products
There is a reason why she is loyal to Casa del Mar, actually there are many. "But the most important one is that most guests return every year. I have generations of the same family visiting my store. Adults that come in whom I have known since they were a baby. It is a beautiful flow, I consider the guests my family."
The love she has for the resort's guests is the same feeling she cherishes about the island. "I am from Peru, but my heart is in Aruba. Of course my roots count, it is just that I feel home here. This is my place." Because she has been working such a long time in the restaurant she studied the taste of the mainly American guests which helps her when she stocks her mini market.
"Most brands are American, they love to be able to purchase their favorite products here." Besides the mini market, Patricia also offers the use of washers and dryers. "Every floor in the resort has a room with a washer and dryer. The tokens for those, I sell here in my store. It is an extra service to make the guests vacation even more convenient."