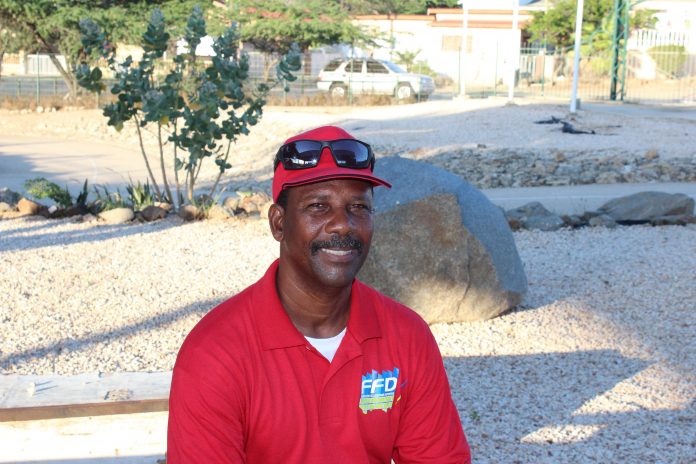 ORANJESTAD – For many years, sports enthusiasts have had a unique place dedicated to their activities. The biggest park on the island, "Parke Curason*" in Jaburibari is a well-rounded park, featuring a covered basketball court, a soccer field, a BMX racing track, a skateboard park, exercise stations, a children's garden, and a 750-meter asphalt path. But one of the best parts is the dedication of the park's 'tata' (father): George Forbes.
The Face of the Park
There are people who just do their job, and then there are those who make a difference in how they do their job. Mr. Forbes makes a difference when you visit Parke Curason. He greets visitors, walks around to help a child fix their soccer ball, or assists a jogger on the path. He even takes care of the cars that enter and directs them to a nearby parking spot. For many people, he is the face of the place, and we often forget to thank people like Mr. Forbes, who stand out in this way.
150 visitors per day
Linda Reijnders spoke with Mr. Forbes. "I've been working here since I was 13 years old, and I cherish everything about my work. I'm a supervisor and security guard. People come here every day, and the connection I have with them makes me happy." He explains that the park receives around 150 visitors every day. "That's the average, and it can be even more on weekends."
Every country and every age is represented; indeed, this is a multicultural and multigenerational park. According to Mr. Forbes, the park has been in existence for 14 years, as it was there from the beginning.
"The park looked fantastic back then, everything was new and in good shape. More and more people come nowadays; Arubans love sports more now, and that's great. Compared to the past, it's better, so we need to focus on maintaining the park," Mr. Forbes explains. He enjoys sports himself and always walks around to assist both young and older people. "I'm not someone who sits in a corner to make money. There are many things to consider to prevent accidents."
BMX Training Spot
Before moving to the Netherlands, Jaymer Carolina was a professional BMX rider, and he confirms the importance of this park for his sport. "The park was my training ground. I trained here six times a week, from 5 to 7 in the evening." He was part of Rough Riders Aruba, where he competed in the 17-24 age category.
The park is not only for BMX groups but also for basketball teams, soccer groups, skateboard enthusiasts, young children, and people who enjoy jogging and walking. Additionally, it serves as a social gathering place.
*"Parke Curason" translates literally to "Heart Park"