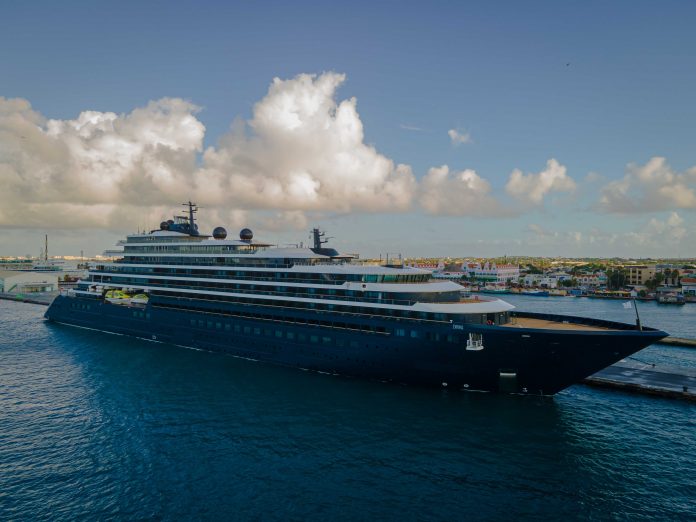 Saturday morning, Aruba received the first call of the Evrima cruise ship that belongs to the Ritz-Carlton Yacht Collection at our dock.
During arrival, as it is customary, the ship was saluted by water cannons.
This cruise line came to our port in Oranjestad for the first time, and will continue coming to Aruba in the near future. According to a press release by the Ministry of Tourism, what is notable is that the Ritz-Carlton cruise line is very new, and already they set Aruba on their itinerary.
The cruise ship arrived in Aruba with a bit over 200 people. It is not a big cruise, but it is a luxury cruise and it is arriving in our island with affluent tourists who will contribute to the local economy.
Evrima is a cruise ship that can carry a maximum of 300 people. Its rooms consist of only suites, and the price for one is not below five thousand dollars per person. It is a cruise that offers its passengers the first class treatment and a luxury experience.
Minister of Tourism, Mr. Dangui Oduber said in a press release that he is very glad that the Ritz-Carlton cruise line set Aruba on its itinerary. The minister is glad that the cruise tourism in 2022 saw a recovery of almost 74 percent. For 2023, the expectation is for Aruba to receive around 800,000 cruise visitors, which is very positive news for our island.