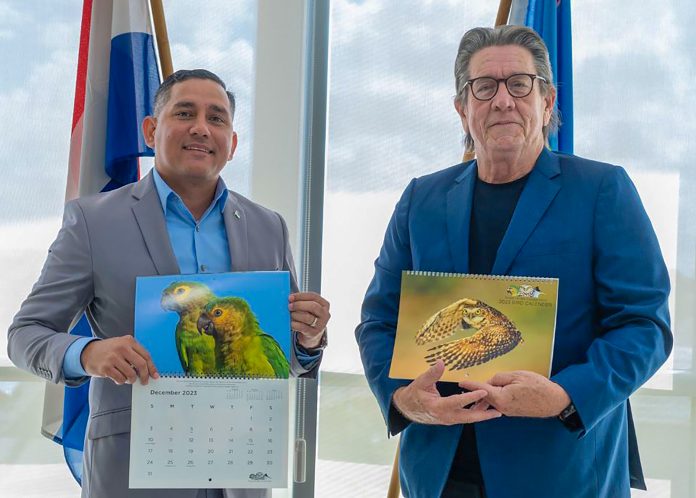 Minister of Transport, Integrity, Nature and Senior Affairs, Mr. Ursell Arends received the Aruba Birdlife Calendar 2023 from Greg Peterson, of the Aruba Birdlife Conservation Foundation.
This year marks 15 years of the publication of Aruba Birdlife Calendar published by Aruba Birdlife Conservation. Once again, no less than nine nature photographers contributed with their bird pictures. They are Damilice Mansur, Ross Boss Wauben, Peter Sprockel, Albert Peterson, Michiel Oversteegen, Michael Tromp, Patrick Peña, Glenda Tromp and Greg Peterson.
The calendars are available for purchase at Best Deal in Paradera; Toko Dakota in Dakota; at four different pharmacies: Botica Eagle, Botica Noord, Botica Maria and Botica Sero Preto; and also at the Op=Op stores in Italiëstraat, Paradera and San Nicolas. Proceeds from the sale of the calendars are used by the foundation for the purpose of conservation.
Greg Peterson, president of the Aruba Birdlife Conservation Foundation is very satisfied with the new calendar and very thankful to all those giving their contribution.
The proceeds will be invested in awareness projects and nature conservation. One of the projects known in Aruba to which funds will be destined will be the Conservation of Shoco – Aruba's endemic burrowing owl – where artificial nests will be installed in order to improve the possibility of procreation for Aruba's Shoco which is currently in danger of extinction. Also preparations are being made for a website with information about the birds of Aruba.
Donations are also welcome, and these can be done in the name of
Foundation Aruba Birdlife Conservation
Aruba Bank NV
Account number 2402860190.
Pictured: Minister Ursell Arends receiving the calendar from Greg Peterson of the Aruba Birdlife Conservation Foundation.