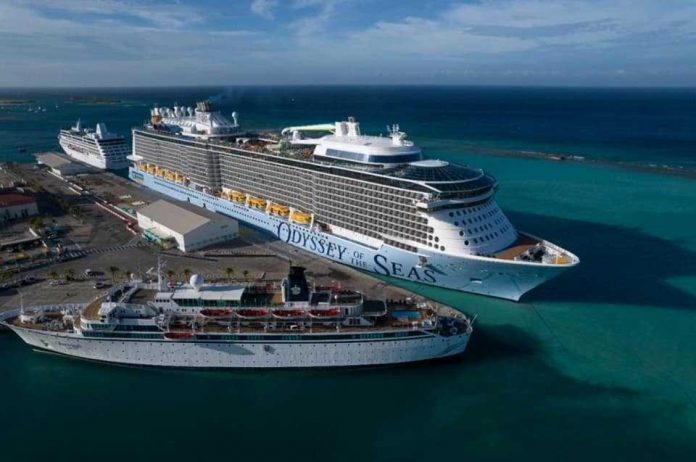 The port of Oranjestad, is situated on the south-western end of the island. The port is open for day and night navigation, allowing vessels to enter and leave at any hour. It is located along the waters edge of the capital, Oranjestad, which makes a colorful sight upon entering of the harbor. The ships moor within walking distance from the shopping centers, a 10 minute drive from the beaches, and a little over 2 miles from the international airport.
In 1955, when the first cruise ship (the Tradewinds) to call in Aruba docked in Oranjestad, it brought the town to a halt as people came to view the strange site. Today, cruise ships are an almost weekly sight.
Located in Oranjestad next to the town's business district, the cruise port is capable of accommodating several large ships at a time and often does so. The cruise terminal is a large metal building painted in pastel colors. Inside are stalls operated by local merchants. On the other side of the cruise terminal is a large parking area. It is here where passengers board their shore excursion coaches. Taxis and vendors offering tours can also usually be found in this area.
When there are too many cruise ships in port to be accommodated next to the cruise terminal, ships are docked at the adjoining cargo piers. There is usually a shuttle bus to take passengers to and from the main gate. However, many guests walk to the gate.
If you are limiting your stay in Aruba to shopping and seeing the sights of Oranjestad, the best way of getting around is on foot. All of the shops and sights are within walking distance of the cruise terminal. Traffic in the town can get quite busy so be careful crossing the streets.
Most passengers elect to go beyond Oranjestad. One popular thing to do is going to the beach, such as eagle Beach, Palm Beach, or baby Beach. There are many ways to get around and explore the island. Perhaps take a taxi. All taxis have "TX" in their license plate number and prices are fixed. You will also find many entrepreneurs at the cruise port selling tours and transportation in buses or vans. All sorts of vehicles are used for tours and shore excursions including all-terrain vehicles and safari trucks. Cars, scooters and all-terrain vehicles can be rented or just take the public bus service. Its terminal is across the main street from the entrance to the cruise port.
Source: beyondships3.com