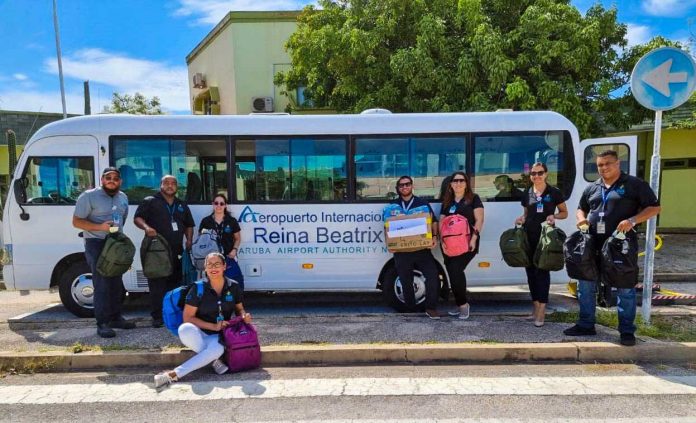 Aruba Airport Authority N.V.'s (AAA) "Wings of Hope" (WoH) proudly donated a total of 175 school supplies and uniform vouchers to the Directorate of Social Affairs (DSZ) on Tuesday, August 3rd, 2021.
WoH's goals are based on five Sustainable Development Goals (SGDs): Hunger, Education, Affordable and Clean Energy, Environment/Sustainable Airport Community, and Partnership. As part of WoH's education goal, which includes two parts, a total of 175 students received assistance with their school materials and uniforms, and a total of 77 students will receive help with their school year fee.
During the handover of the school supplies and uniform vouchers to DSZ by the WoH workgroup and AAA colleagues, AAA's Director Health, Safety and Sustainability, and WoH leader Mrs. Angeline Flemming expressed her utmost gratitude towards DSZ for their continuous efforts and dedication to the community of Aruba. The assistance of DSZ is crucial to WoH. "For AAA, it is an honor to be able to assist especially the children, to help them succeed in their studies, despite their challenging circumstances. We hope we can also inspire some of these young minds to consider a future career in Aviation, said Mrs. Angeline Flemming.