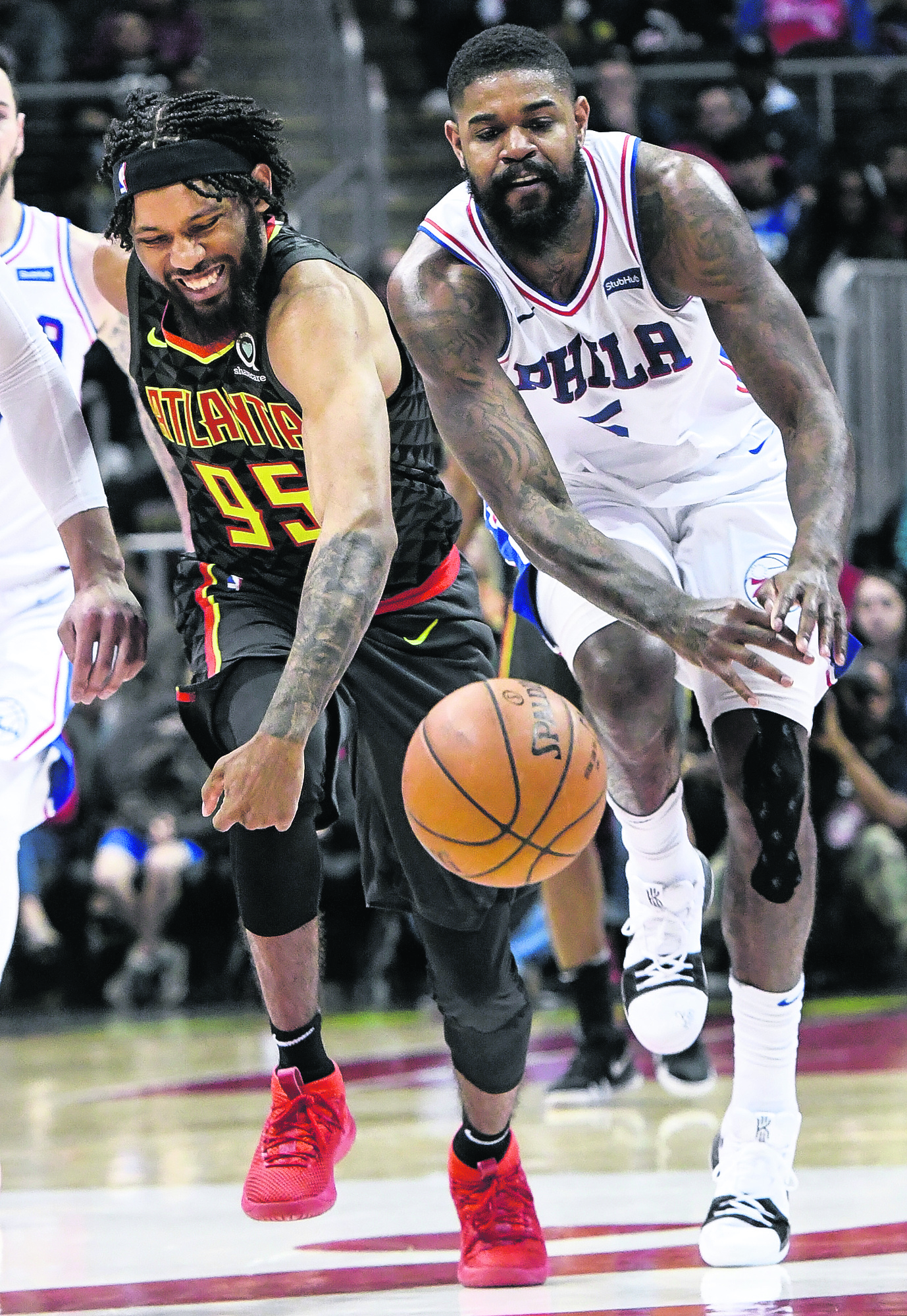 By The Associated Press

ATLANTA (AP) — JJ Redick scored 28 points and the surging Philadelphia 76ers set a franchise record with their 15th consecutive victory, holding off the Atlanta Hawks 121-113 Tuesday night to move a step closer to locking up the No. 3 seed in the Eastern Conference. The 76ers overcame a tough outing for rookie star Ben Simmons, who missed the morning shootaround after coming down with the stomach flu. He still managed to put up 14 points, 10 rebounds and six assists before fouling out with 7 seconds remaining.
His teammates helped pick up the slack. Redick hit 6 of 9 from beyond the 3-point arc, while former Atlanta players Ersan Ilyasova and Marco Belinelli burned their old team. Ilyasova scored 26 points, Belinelli added 20 and the duo combined for nine 3-pointers. Philadelphia went 17 of 37 beyond the arc. Taurean Prince led the Hawks with 27 points.
JAZZ 119, WARRIORS 79
SALT LAKE CITY (AP) — Donovan Mitchell scored 22 points and set an NBA rookie record for 3-pointers, Derrick Favors added 16 points and nine rebounds, and Utah cruised to a victory over Golden State. Jonas Jerebko scored 14 points, and Rudy Gobert and Ricky Rubio added 13 points apiece for the Jazz. Utah (48-33) won its sixth straight game and went 3-1 in the season series with Golden State. The Jazz can claim the No. 3 seed in the Western Conference with a win over Portland on Wednesday night. Even with a loss to the Blazers, Utah is assured of falling no lower than the No. 5 seed. Klay Thompson scored 23 points and Kevin Durant added 13 for the Warriors, who finished the season at 58-24. Golden State, the No. 2 seed in the West, never led in the game and shot just 35 percent from the field.
WIZARDS 113, CELTICS 101
WASHINGTON (AP) — John Wall surpassed 5,000 career assists and Washington beat Boston despite Jaylen Brown's 21 first-quarter points to remain in play for the No. 6, No. 7 or No. 8 seed in the Eastern Conference. For now, the Wizards are eighth in the East, and potentially more worrisome is this: Starting small forward Otto Porter Jr. left at halftime with a right lower leg strain and did not return. Wall finished with 29 points and 12 assists as Washington ended its four-game losing streak. The Wizards will wrap up the regular season at Orlando on Wednesday. That result, along with how Miami fares against Toronto and what Milwaukee does at Philadelphia, will determine where the Wizards, Heat and Bucks all wind up in the standings ahead of the playoffs. Brown wound up with 27 points.
ROCKETS 105, LAKERS 99
LOS ANGELES (AP) — Chris Paul scored 22 points, James Harden had 21 points and 10 assists, and Houston kept steamrolling toward the playoffs with its 31st victory in 34 games.
Gerald Green scored 16 points as Houston hung on late to avoid its first back-to-back losses since Jan. 6. But in the first half, the Rockets lost backup forward Luc Mbah a Moute to a dislocated right shoulder in a meaningless game. Andre Ingram scored 19 points with four 3-pointers for the Lakers in the 32-year-old guard's impressive NBA debut. Los Angeles promoted the 10-year G League veteran from its South Bay affiliate for the final two games of the regular season, and the developmental league's career leader in 3-pointers hit a 3 on
his first NBA shot. Ingram's fourth 3-pointer with 51 seconds left trimmed Houston's lead to 102-99, but the Lakers couldn't score again. Ingram finished 6 for 8 from the field and 4 for 5 on 3-pointers along with three rebounds, three blocked shots and a steal.
HORNETS 119, PACERS 93
INDIANAPOLIS (AP) — Dwight Howard finished with 14 points and 17 rebounds, and Frank Kaminsky tied his career high with 24 points to lead Charlotte past Indiana. Charlotte ended the season with two wins in its last seven games. The Pacers, who are locked into the No. 5 seed in the Eastern Conference, lost for the second time in three games with three starters sitting out. Darren Collison, T.J. Leaf and Glenn Robinson III all scored 13 points for Indiana.
SUNS 124, MAVERICKS 97
DALLAS (AP) — Rookie Alec Peters scored a career-high 36 points and Phoenix beat Dallas in a reserve-filled finale for two teams headed to the lottery. The Mavericks (24-58) entered the game tied for the third-worst record in the NBA and stayed that way while sitting eight players. That included star Dirk Nowitzki, whose 20th season ended last week when he
had ankle surgery. Atlanta finished with the same record after losing at home to Philadelphia 121-113. Orlando can join the Mavericks and Hawks with a loss at home to Washington on Wednesday. Phoenix (21-61), which had already clinched the worst record and best lottery odds for the No. 1 pick in the draft in June, also didn't dress eight players. The Suns won for the second time in 19 games to wrap up their third straight season with at least 58 losses.