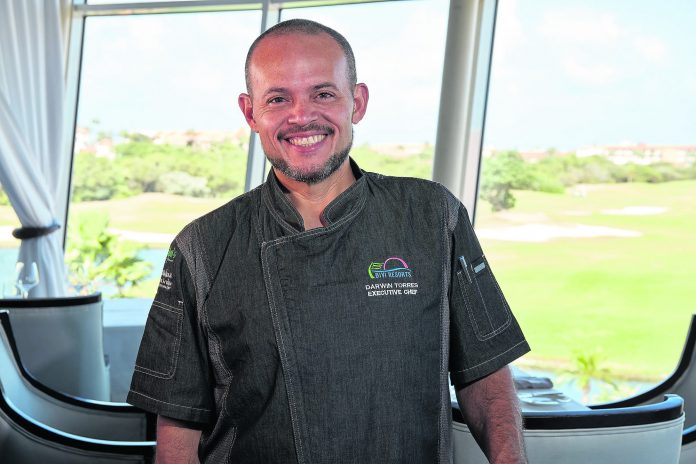 Darwin Torres, Windows on Aruba's Executive Chef, has long been known as an innovator in the Caribbean culinary world. Torres' specialty is his consistency in quality, his purity of taste, his insistence on freshness, his incredible original sauces and his creative plate presentations that truly turn each dish into an art form. "My Three-Course Tasting Menu is a hit because it offers guests great selections from Windows on Aruba's original a la carte menu for only $ 49 per person, so guests can sample delicious dishes for a very attractive price," Torres explains. The reviews are not lying, this is a must-try for foodies. "The smaller portions are perfect for everyone to complete three courses and guests love composing their own menu and enjoying a taste of different flavors."
Land to table freshness.
The number one essential thing to know about Chef Torres is his insistence on fresh, organic ingredients and pure taste. His inspirational dishes and menus have now expanded to included mouthwatering vegan options. "You can do so much with vegetables. I have local farmers that deliver my specially requested vegetables daily," he explains, "I go for purity of taste." Chef also produces his own picas (hot sauces) which have become so popular among the guests at Divi Resorts, that they are being added to all Divi Resorts restaurants. "I am passionate about the whole concept of land to table," he explains, and it's reflected in his dishes. At Divi Village Golf & Beach Resort they have an in-house program that measures guest satisfaction, and Windows on Aruba gets a consistent five-star recommendation. "I cannot be happier when guests are content, that's how I measure the success of my menus and my hardworking staff," Chef Torres declares with pride.
Ambiance Galore
The setting at the restaurant takes you to another world. Windows is built to showcase 180 degrees of stunning views, enchanting diners during daylight with beautiful golf greens and the blue waters beyond. At night, the sunsets and lights from the golf course bring an ambiance of full romance mingled with an elegant décor. This combined with delectable food and an ambitious selection of wines, result in an exceptional one-of-a-kind dining experience.
The Chef's Three-Course Menu is ideal for everyone. Families with children, couples, guests with special dietary requirements, vegans and vegetarians. Windows on Aruba truly has a menu for everyone, and you will leave wowed by this restaurant, the extraordinary food and the beauty of each presented course.
Recent TripAdvisor review: "We go to Aruba every year and would never miss their excellent food,ambiance, and service!!! The beautiful windows looking out on incredible scenery as well as the beautiful presentation of every course. Our family of twelve loves every item they
order and the service they offer. We give Windows on Aruba 6 stars******"
Windows on Aruba Restaurant
Divi Golf & Beach Resort
J.E. Irausquin Blvd 93, Aruba