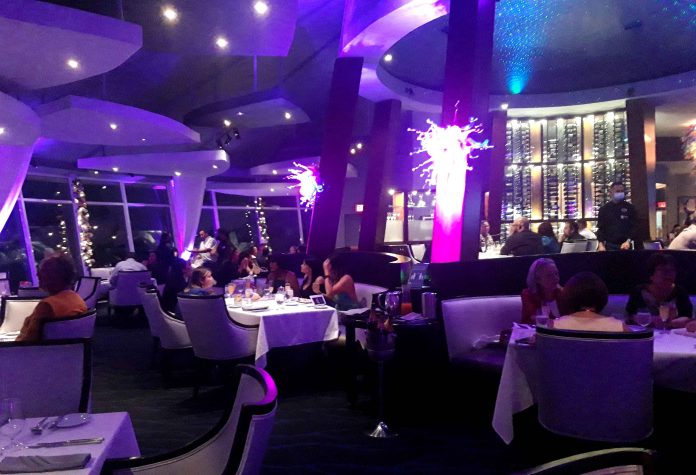 Windows on Aruba gets it. They grasped the opportunity to think out of the box and offer you something different during the pandemic. While the place already is impressive by its appearance -a glass dome looking outward towards the wind-whipped greens golf grass and the lights of Eagle Beach-, Friday night here has turned into a hit with the Late Night Brunch. Yes, you read it right, because of the enormous success of their Sunday Brunch the restaurant brought a nightly version including DJ, endless bubbles and brunch favorites.
Clubbing Concept
Everything is dressed up this night: the restaurant glitters in elegance and the guests appear in party chic. The bar with cocktail shaker and DJ add to the style. Upon entry of Windows on Aruba, your eyes immediately meet the impressive wall of wine. The ambiance is loose, happy yet sophisticated_ yet in the mood for something great. The classy tables and chairs are very comfortable and the whole place is wrapped in a huge bubble. It reminds me somewhat of Amsterdam's Supper Club, the feeling that all falls into place and your five senses are full awake.
Tasting Dishes
Let's check out the food. The menu offers a Bread & Antipasto to share, a choice of 12 Appetizers, 2 Soups, 3 Salads, 8 Main Courses and 5 Desserts. Order and go on as much as you please. Different appetizers like the Grilled Lobster Slider, Tuna Tartar, Classics Escargot, Beef Carpaccio and Crab Cakes, are all delicious and presented to make your eyes feast. The Ribeye Provençale is a firm yes, the Sea Bass Kebab is joy to the fullest and the Catch of the Day praised at the tables. In case you never tasted a Lava made from black beans, it definitely is worth the try. The nice thing about this concept is that is it more like a food tasting where you keep trying different dishes. They come in small sizes allowing you to go on a culinary journey.
Friends, colleagues, couples
Late Night Brunch catches you off guard with the name, arousing your curiosity. There's only one way to find out: gather your friends, go family, make it a colleague's holiday event or just do something tasty, fun, glamorous and "clubby" with your loved one. Make sure you reserve your spot as this is the hottest new Friday Fave on the island.
Windows on Aruba
J.E. Irausquin Blvd. 93
T: +297 523 5017
www.windowsonaruba.com