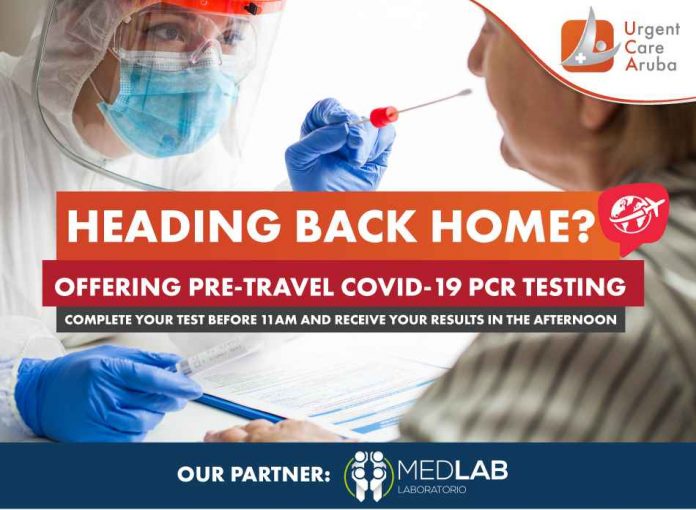 After enjoying a nice vacation on our beautiful island, it is time to head back home or to another destination. This also means that it is time to conduct your pre-travel PCR test nasal swab before your departure. This article will provide you information on where to go as well as the testing process.
Urgent Care Aruba (UCA) located at the Noord Medical Center, Noord 63. Offers you the Pre-Travel COVID-19 PCR Testing conducted by the facility's own laboratory Medlab Aruba. You can also request our remote testing service at your location. Test and results are recognized by airlines and government entities. Testing availability is from Monday to Friday: 7am-4pm. Conduct your test before 11am and receive your results in the afternoon. Price for the test is $126 and results are sent electronically. It is important to mention that the Pre-Travel COVID-19 PCR Testing is not covered by the Aruba Visitor's insurance. Leaving on a Saturday, Sunday, or Monday? Complete your test on Friday before 11am and receive your results in the afternoon. If you are experiencing COVID-19 like symptoms, we recommend for you to conduct this test only via appointment.
For questions and/or information contact us at: Urgent Care Aruba Telephone number: +297 5860048, WhatsApp: +297 5975549, info@urgentcare.aw, www.urgentcare.aw, like us on Facebook: Urgent Care Aruba and Instagram: @Arubadoctor. Laboratory Medlab For more information or questions contact telephone number +297 5861600, WhatsApp +297 5975544, info@lab.aw, www.lab.aw, like us on Facebook Laboratorio Medlab Aruba and Instagram @laboratorioaruba. We would like to thank you for choosing Aruba as your destination location. Safe Travels and hope to see you soon again!