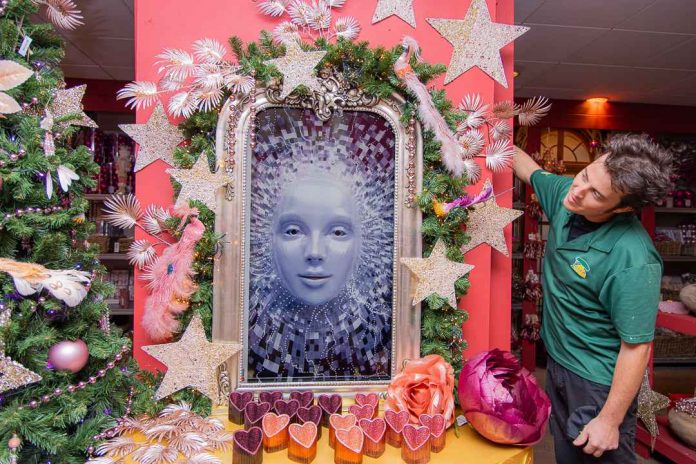 If you own a condo, a house, or a timeshare you need to visit their Christmas show to get inspired and arm yourself with the most wonderful decorations for your home away from home. Flora Home & Garden Decorations takes it up a notch in the holiday season. This store is a must-do excursion, taking you into a fairytale world where smiles are created and you leave coveting Christmas. Aruba Today talked to the creative mind behind this holiday magic scene Robbert Pieter Hollander.
"I am the designer for Flora and of course the Christmas show is my big thing of the year. I also take care of designs for restaurants and hotels or other companies." From the beginning of the year Hollander is wracking his brain about the holiday season theme. He observes the reactions of his public and then he maps out which items and materials he needs to purchase for his showcase. "I select from several companies in The Netherlands to build the décor precisely as I have it in mind. Of course, sometimes I need to adapt due to the availability of goods. Initially, I wanted an antique, traditional Christmas design with a castle, king and so on. But I bumped into the dwarfs, elves and other fairy tale figures and I thought to myself: this is what it is going to be!"
Enchanted
For many families, the Flora's Christmas show is a valuable part of their holiday cheer. Inside its doors, you are transported to a world of fairy tales and enchantment. While strolling, you will discover all sorts of surprises that take your breath, or encounter Snow White and her Seven Dwarfs, see the talking mirror and listen to the story of the big, old tree. Rapunzel's tower can be climbed and Cinderella's carriage is open for you to glimpse into. Jack Frost is standing proud surrounded by polar bears calling your attention in his land of ice. It is impossible to not be tempted to take a hunch of this ambiance home to create your own Christmas dream.
Virtual 3-D show
You feel the heart and passion Hollander and his team put into the décor. "It makes me happy to see the people enjoying, to watch the children sitting in front of the talking tree and it is very satisfying to be able to do this for our community and tourists. Flora is dedicated to community responsibility, especially this year we wish for our clients to bring them a sprinkle of happiness and joy. We have foundations visiting us with their clients for example people with disabilities who cannot easily access stores in daily life," says Alex Heijkoop, Managing Director. Flora will also offer a virtual 3-D show for those people that cannot come and enjoy the show for themselves. There are links to the fairytales as well_ which is a superb option for kindergarten or elementary schools. Check out their website: www.flora.aw to find out more.
About Flora
Flora was established on the island May 1st, 1997. Throughout the years they have become the home of the latest trends in home and garden décor. Flora's team can arrange decorations for a Christmas or weddings. People come to the mall from time-to-time for advice and inspiration for plants, trees and fresh flowers, furniture, decoration and much more!
Flora is open from 9:00AM until 6:00PM on weekdays and Saturday, and from 10:00AM until 2:00PM on Sundays. Measures have been put in place keeping you and Flora's staff safe, you are kindly requested to respect the protocol for Covid-19. Flora is located on Avenida Milo Croes 101 (next door to Pricemart building). Facebook page: Flora, website: flora.aw.