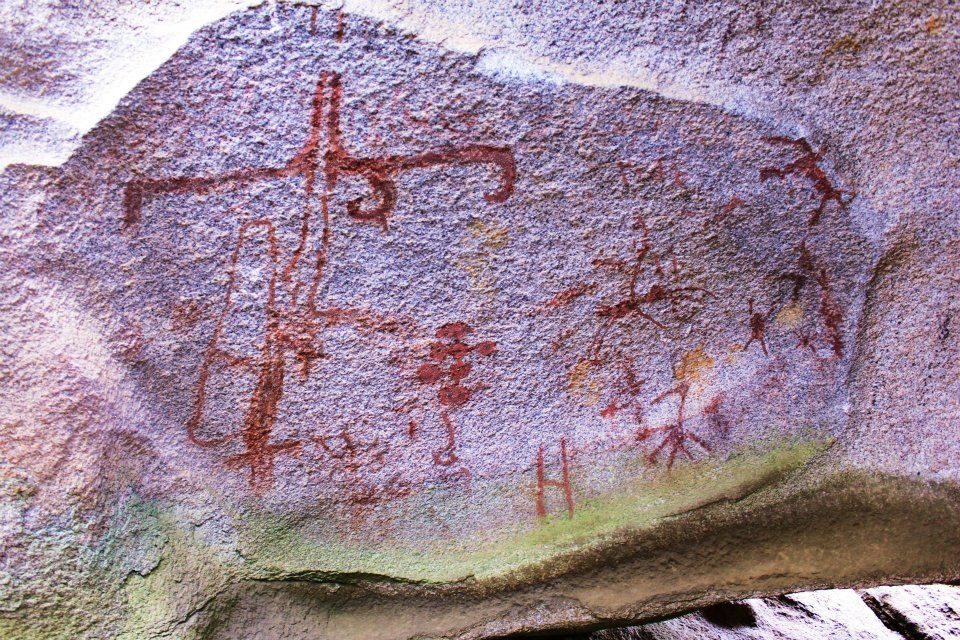 Weburi is another very interesting place situated South of Piedra Plat`s Protestant Church. Weburi, as we are told stands for; boulders standing in the blowing wind. This pictograph site can also be reached going North from out the Hooiberg hill or Hay stack. After some 500 steps you should look for some particularly round boulders. In one of them, a cove has formed due to erosion with a west-facing entrance and is the rock containing a fantastic collection of red pigmented rock Art. This amazing site has some minor difficulties to find the entrance, however, once the entrance is located and one has made it inside the hollow rock bolder, the mystical drawings are all over the interior wall and can best observed.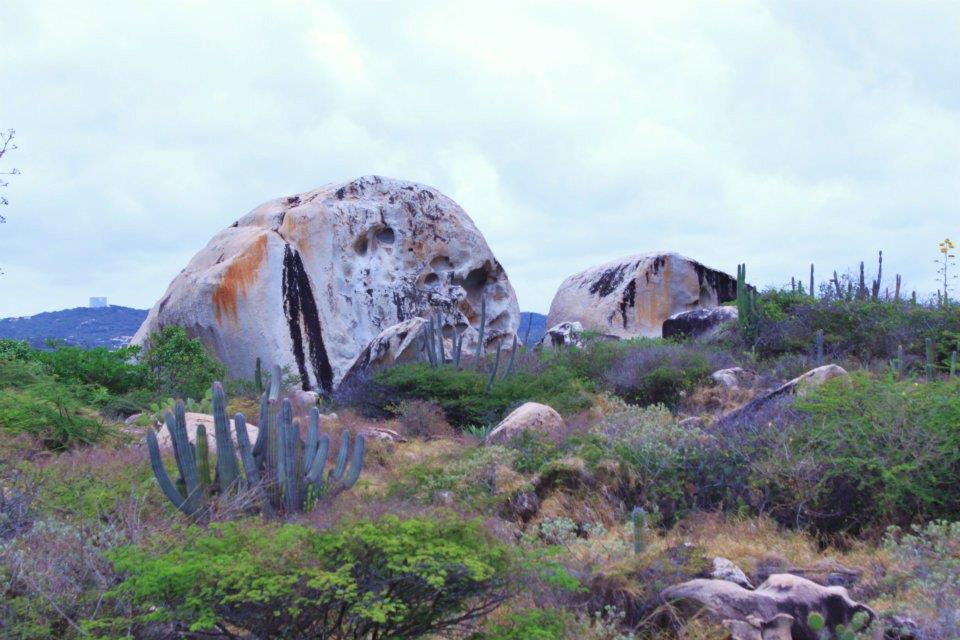 Pic. 1 Weburi, Piedra Plat. Picture taken looking towards the East ____________________________________________________________
This area is part of some man-made rain water collecting dams and conjunctions of rooi`s or dry river beds. Weburi is also in the vicinity of a once large Caquetian or island Amerindian settlement that now is known under the name of Santa Cruz, a Spanish Catholic name.
This is a story that was told to me over 30 years ago, which took place when the Calvinist Protestants decided to establish their new congregation. Piedra Plat was the place of choice and this happened during construction of the old church and the building of some houses. On an early Wednesday morning, the lady recalling the story told by grandmother: the sun had not risen yet when they were distracted by a certain sound that appeared to be sobbing of a child.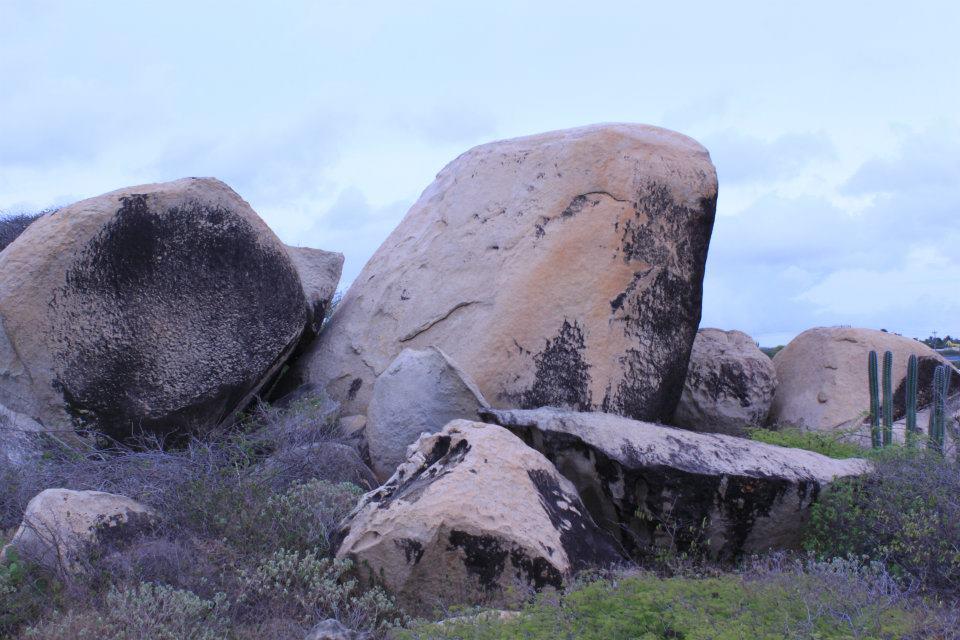 Pic. 2. Boulder at Weburi, where the pictographs where found______________________________________________________________________
It was not long after that everyone started to walk about with the hope to find out from where the crying sound was coming from. After a short search someone shouted, "Found her!" so everyone knew immediately now that she was a girl. She looked very badly nourished and dirty. No doubt that she was lost. Maiti knew how to speak some Spanish, Papiamento and her Caquetian language. Now that a few weeks had past she was amazed that she looked way much better and very nice indeed. After a few more weeks we could see that she felt secure enough to start to tell a more consistent story and why she was hiding in fear and from whom or from what was she running from and hiding in the rock formation. All happened when she arrived at Westpunt and found out from her step-uncle that her mother and her two siblings had passed away about two weeks ago one after another from food poisoning and that her father took way broken-hearted on a sail ship. So there she was with her step-uncle who, resulted to be a bad person able to use brutal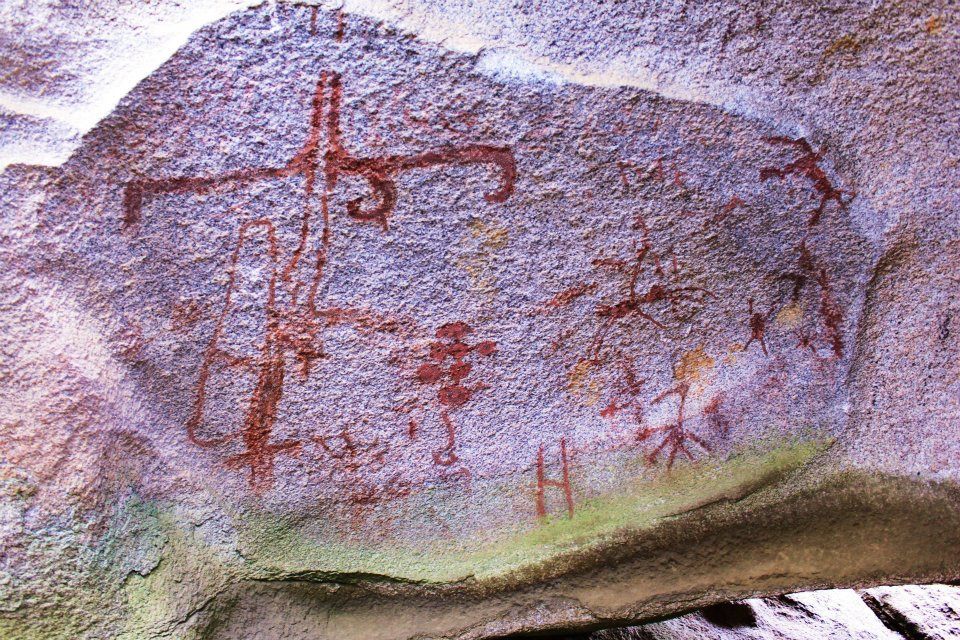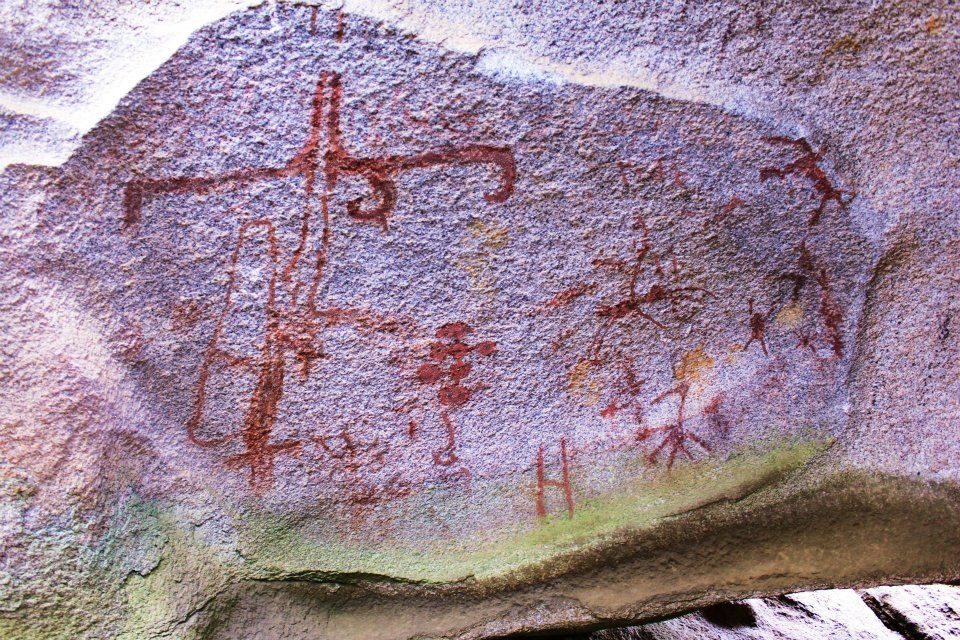 Pic. 3. Rock Weburi art drawings inside the rock bolder at _______________________________________________________________________
force in trying to get his way with her. Luckily she had gotten away. But with difficulties on the mainland and her family gone, she only knew to run and escaped all abusive intentions. For 5 days she wandered around and on the second night she slept in the cove with the drawings. You must imagine the conditions which she was in since she did not eat or drink enough since she was dispatched some weeks earlier. She sailed out from Adicora, Paraguaná State of Falcon in Venezuela to Aruba. The story was that she was born on Aruba but returned after a long visit of almost 4 years to her grandparents on the mainland. She claimed to have had an Aruban Caquetian father and a mainland Caquetian mother who was the granddaughter of a regional prince who had the of Judibana who appeared to be a very beautiful woman. Judibana was confirmed to had lived and was the wife of regional Chief with the name of Jurijurebo and that drought and famine provoked that they sent her back to Aruba where her parents had a small Cunucu together with a cousin she called uncle. She was always proud but serene and self-conscious. In her town on the mainland, everyone knew that she would become a beautiful young woman that looked exactly like dudu Judi or grand ma Judibana. Maitirima was her name and was composed of the two words, Mai, meant water spring or an eye of water and Tirima which meant blue celeste, all that together it meant Blue- Water- Spring, who must have been of an age between 9 and 12-years-old at the time. She became a hardworking, smart and beautiful woman and got married into the Croes family of Piedra Plat and was the great-grandmother of many generations of Protestant Native Arubans.

Discover an Aruba that no other could share with you. Our renowned indigenous and educative session has been entertaining curious participants for decades. Mail us at etnianativa03@gmail.comto confirm your participation at our facilities, close to the high rise Hotels area, and take this experience home with you.