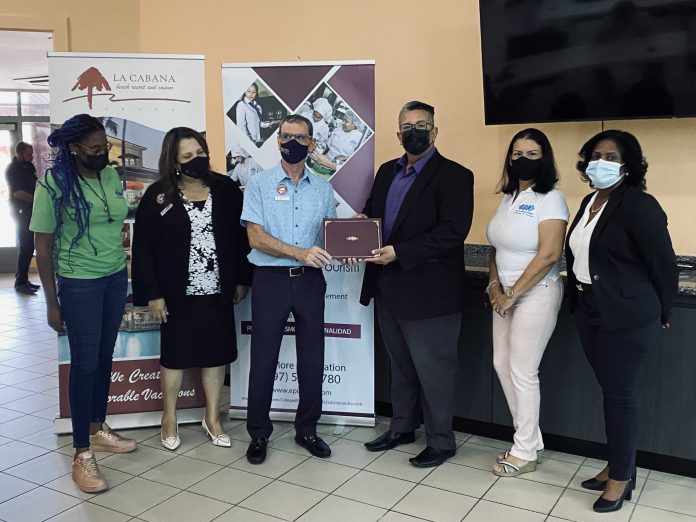 An informal gathering at EPI College announced two scholarships, awarded to top EPI Hospitality & Tourism faculty students. The scholarships were awarded by La Cabana Beach Resort & Casino.
It was an initiative of Circle K-EPI, a service leadership program, affiliated to the Kiwanis Club of Aruba, in partnership with La Cabana Beach Resort & Casino.
Circle K was looking for a generous backer and found the resort an eager partner. The school identified two worthy recipients, then General Manager, Joe Najjar, surprised the gathering at EPIlicious restaurant by pledging the scholarship as an annual donation. In his short address Najjar stressed his resort's commitment to community service and talked about the importance of nurturing young leaders. Human Resources Director, Tessely Koolman and Sudi Guda, Talent Manager, also graced the event with their presence. Koolman, wearing two hats, that of the resort and that of Advisor for CK-EPI, highlighted the connection between well-prepared leadership and a top hospitality industry, contributing to a better Aruba.
EPI Hospitality & Tourism Dean of Students Affairs, was grateful for the trust invested in his students and expressed satisfaction over the long term collaboration between the resort and the school.
EPI Hospitality & Tourism College offers three study streams, one for immediate employment, one for professional development through apprenticeship and a third for longer term associate degrees.
In the pictures members of the faculty, and La Cabana Beach Resort representative, with school officials Zahaira Supriana and Charlotte Ponticorvo. The event concluded over delicious fruit punch and homemade gourmet snacks. Congratulation, students for a job well done.