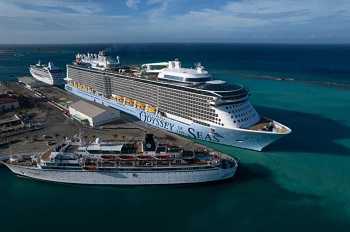 The Minister of Tourism and Healthcare, Mr. Dangui Oduber, announced 31 cruise ship calls for November 2021.
It is a substantial increase compared to the original expectations for November. Under normal circumstances, Aruba receives 18 calls for November and December but has increased to 31 confirmed calls for November already.
Compared to October, where there are only 9 calls, November has seen an increase of 22 calls scheduled. The Minister of Tourism, the APA, and ATA are working proactively to get more cruise lines to visit Aruba, including providing information about the current situation in Aruba. At the same time, they share the safety protocols in place for cruise ships when visiting Aruba. After the last devastating cruise season caused by the pandemic, Aruba is slowly recovering its cruise tourism and soon reach 100% recovery.
In November, cruise ships from a variety of cruise lines will be arriving:
Celebrity Cruises;
Royal Caribbean Cruise lines;
Carnival Cruise Lines;
TUI Cruises;
AIDA Cruises;
Princess Cruises;
Marella Cruises;
MSC Cruises;
Holland America Line;
Windstar Cruises;
Azamara Cruises.
Aruba is the first destination for cruise ships and this helps Aruba recover its cruise tourism. Flourishing cruise tourism will create new opportunities for the economy, including more jobs for tour operators, taxi drivers, restaurants, and retail stores.