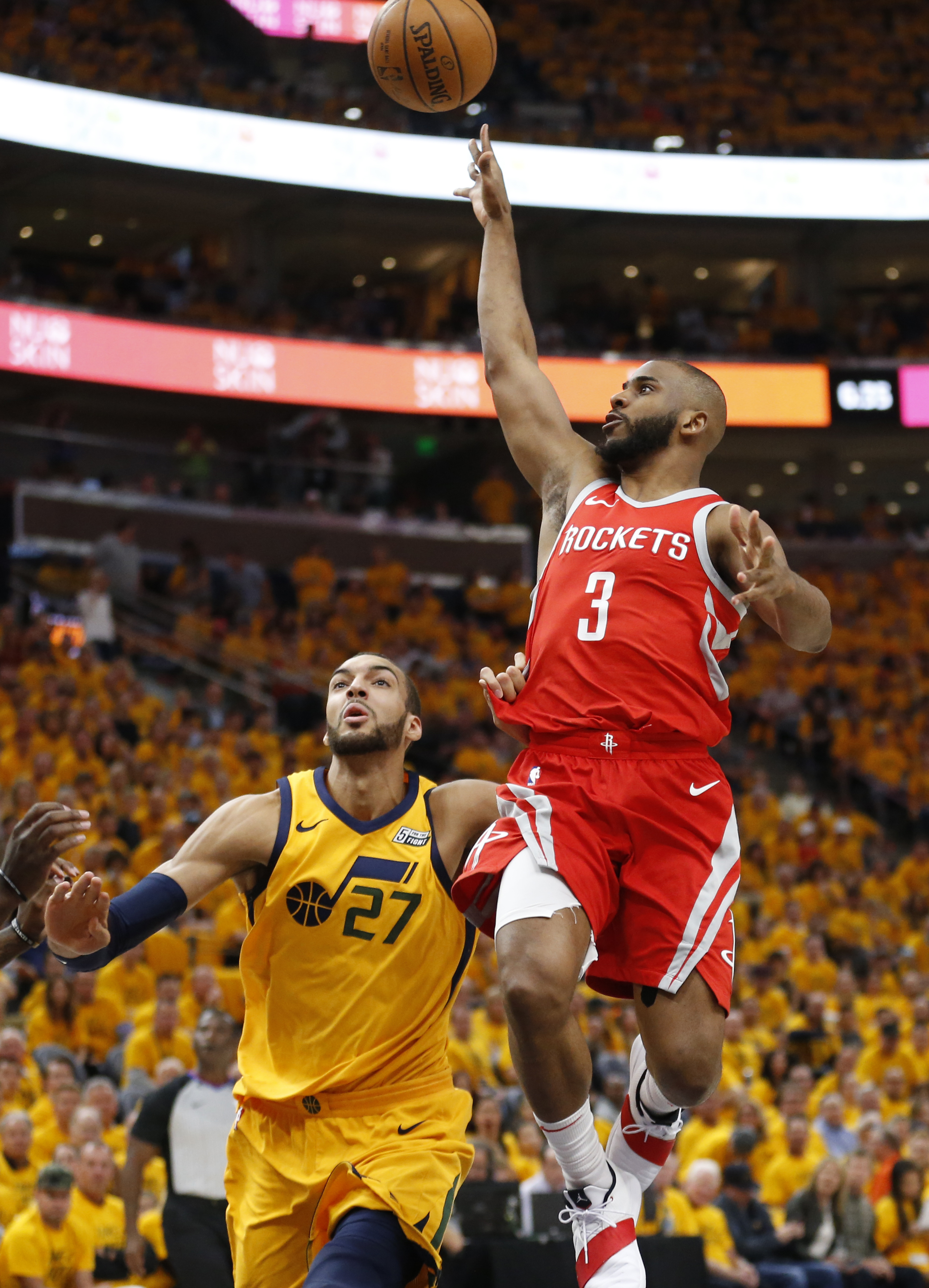 By KRISTIE RIEKEN
AP Sports Writer

HOUSTON (AP) — Chris Paul is a win away from finally reaching the Western Conference finals in his 10th season in the playoffs. But the Houston guard isn't looking ahead to what most expect will be a showdown with the defending champion Golden State Warriors in the next round. After all, he's been in this situation before in 2015 with the Los Angeles Clippers.
Paul is normally reticent to discuss his past playoff failures, but the nine-time All-Star was candid about that particular letdown when he was interviewed on TNT moments after Houston took a 3-1 lead over the Utah Jazz with a 100-87 win in Game 5.
He was asked if he's allowed himself to think about being in the finals for the first time.
"It's the process man," he said. "I've been here before, 3-1. (Expletive) went bad real quick, you know what I mean?" The collapse that Paul is referring to came at the hands of the Rockets. Paul and the Clippers raced out to a 3-1 lead in the conference semifinals. They got blown out in Game 5, wasted a 19-point second-half lead in a loss in Los Angeles in Game 6, then fell in Game 7 at Houston. Paul got prickly later when asked to expand on his comments and share what he learned from that series. He deflected the question with a joke before finally mumbling: 'don't relax,' before James Harden stepped in to save his teammate from the uncomfortable moment.
"He's not even thinking about that honestly," Harden said. "We've got a game on Tuesday and we're going to do whatever it takes to close it out." Houston's game against Utah is one of two games on Tuesday. In the other game, the Warriors also have a chance to finish off their series with the New Orleans Pelicans after taking a 3-1 lead with a 118-92 win on Sunday. This is Paul's fifth appearance in the conference semifinals after losing to the Spurs 4-3 in 2008 while with New Orleans, being swept by San Antonio in 2012 with the Clippers and losing 4-2 to the Thunder with that team before that 2015 debacle against the Rockets.
Coach Mike D'Antoni said the most important quality Paul has brought to the Rockets in his first year with the team is his toughness and edge.
He doesn't expect to see anything different out of him on Tuesday despite having the opportunity to finally shed the label that he can't get out of the second round. "It's hard to go up another notch. I think he's on full-tilt all the time," D'Antoni said. "You'd have to talk to him a little bit (but) I'm sure it's on his mind." For the Jazz, they're hoping that they can recreate the success they had in Game 2 when they led by as many as 19 points early, and held on for a 116-108 win. "We were on a different level in Game 2 and I think we've just got to get back to that," rookie Donovan Mitchell said. Utah could get a boost in Game 6 with the return of Ricky Rubio. He's missed the entire series with a strained left hamstring, but was listed as questionable before Sunday's game and could be well enough to play on Tuesday.
However, they could be without reserve point guard Dante Exum in Game 6 after he left Sunday's game in the third quarter with soreness in his left hamstring. Here's a closer look at the Pelicans-Warriors game.
PELICANS AT WARRIORS
Warriors lead series 3-1. Game 5, 10:30 p.m. EDT, TNT

NEED TO KNOW: The Warriors have been dominant on their home floor for two straight postseasons, having won a franchise-record 14 consecutive playoff games at Oracle Arena and already closed out the Spurs at Oakland in Game 5. With a 15th straight home playoff win, the Warriors would tie Chicago for an NBA record. The Bulls did so from April 27, 1990, to May 21, 1991. "We've got to win one game at Oracle and that's the one that we play next," Pelicans coach Alvin Gentry said. "That's as far as we need to look. Obviously it's a monumental task. It's been done before. As I said to the guys, 'We just got to go and play and you're not out until they win four games.'"
KEEP ANY EYE ON: Stephen Curry continues to find his groove and this will be his fourth game back from nearly six weeks sidelined with a sprained left knee. His minutes are increasing each game he plays, up to 31 in Game 4.
Curry is 22 for 51 with 12 3s so far this series.
TOUGH CHALLENGE: The Pelicans never know which Golden State star might be on any given night — or all of them at once. The Warriors led wire to wire in Game 4 following its 19-point embarrassment in Game 3. Kevin Durant is coming off a 38-point performance, but it could be Klay Thompson's turn, or Draymond Green chasing another triple-double. "The bigger the game the better Draymond plays," coach Steve Kerr said, "the more intense he is, the more focus he has. He's going against Anthony Davis night after night and just doing an amazing job in concert with his teammates. Draymond's a rare guy. Every time the moment gets bigger, he gets better and not everybody can say that." Durant has scored 20 or more points in 16 straight postseason games.
PRIORITY ON SHOOTING: Gentry gives New Orleans little chance of staying in the series and staving off elimination without a big scoring performance. The Pelicans lost 118-92 on Sunday and shot just 36.4 percent — 32 of 88 and 4 for 26 on 3-pointers. "You're not going to beat them if you're not going to score 115 points, I don't care how good your defense is," Gentry said.