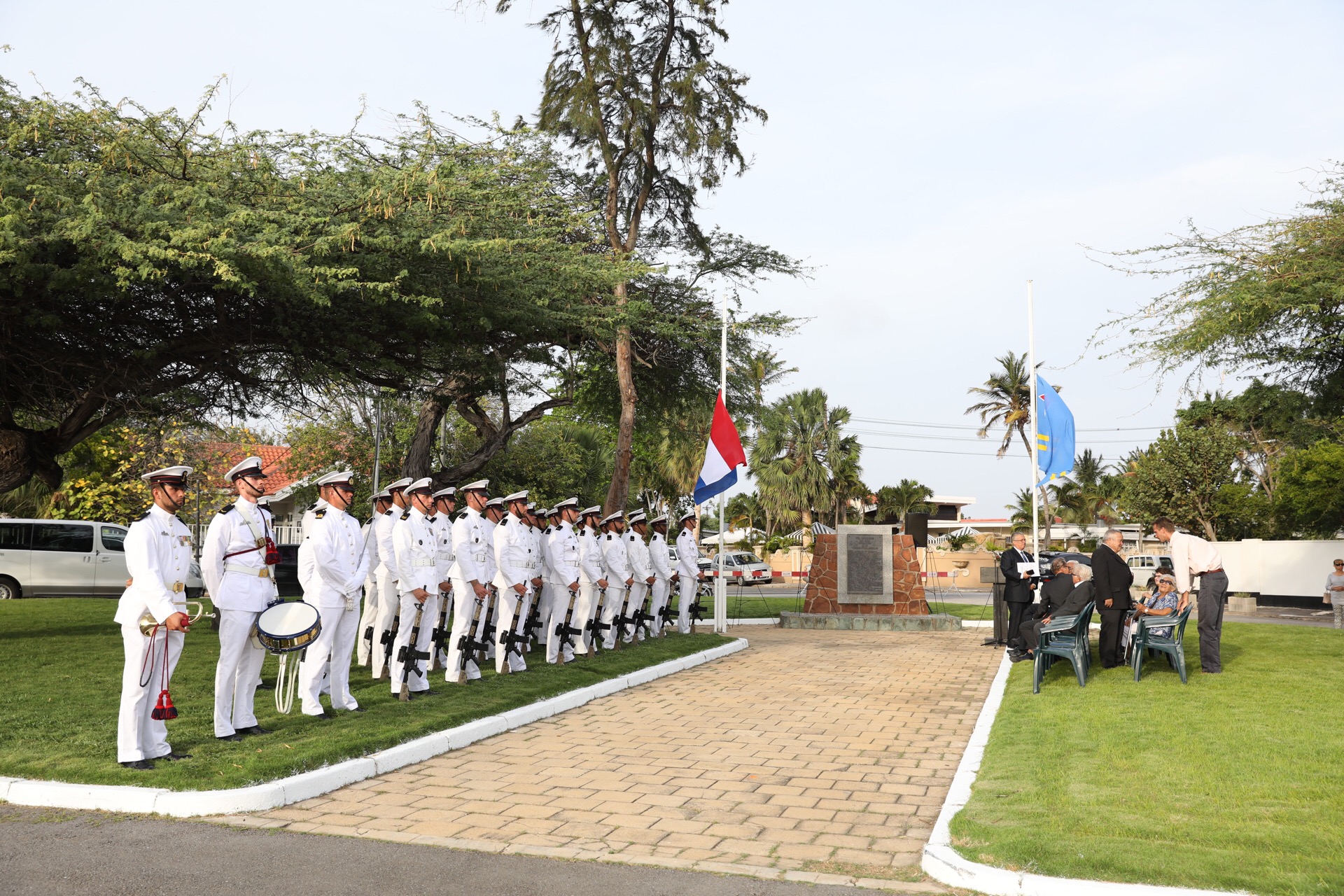 ORANJESTAD – Remembrance of the Dead (Dutch: Dodenherdenking) is held annually on May 4th in the Kingdom of the Netherlands. It commemorates all civilians and members of the armed forces of the Kingdom of the Netherlands who have died in wars or peacekeeping missions since the beginning of the Second World War. Liberation Day (Dutch:Bevrijdingsdag) is celebrated in the Netherlands on May 5th, the day after Remembrance Day. It commemorates the end of the Nazi occupation during the Second World War.
The oldest statue of Aruba is the one of Queen Wilhelmina. … Every year, a wreath is laid here on May 4, according to Dutch tradition, as part of the commemoration of the dead.
Governor Alfonso Boekhoudt was present during the remembrance in the evening of May 4th. At 6 PM a 2- minute silence was observed as part of the remembrance. Commemorated were those who lost their lives in the Second World War and also those who were victim of any war crisis and peace operation after the Second World War. The Governor laid a wreath in the name of the people of Aruba at the monument, followed by a moment of consideration and prayer by the pastor of the Barracks of the Dutch Marines in Savaneta.
The 2-minute silence was announced by the taptoe-signal, a trumpet signal and closed by the two national anthems of the Netherlands and Aruba. Music was arranged by drummers and pipers of the Corps Marines. Young sport talent Chiara Petrocchi dedicated a poem and the Prime Minister Evelyn Wever-Croes gave a speech. Children of the Padvindersgilde (scouting) together with other children set flowers by the monument. The Governor closed the ceremony with a defile opening where all present had the opportunity to give honor to the commemorated. It is 73 years ago that the Second World War was ended for the Netherlands.
World War II, also called Second World War, conflict that involved virtually every part of the world during the years 1939–45. The principal belligerents were the Axis powers—Germany, Italy, and Japan—and the Allies—France, Great Britain, the United States, the Soviet Union, and, to a lesser extent, China. The war was in many respects a continuation, after an uneasy 20-year hiatus, of the disputes left unsettled by World War I. The 40,000,000–50,000,000 deaths incurred in World War II make it the bloodiest conflict, as well as the largest war, in history.