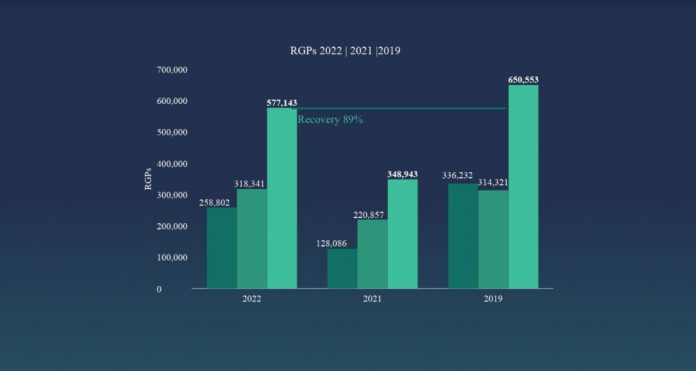 Aruba Airport Authority N.V. (AAA) can report as follows on AUA Airport's performance for the 1st half of 2022.
Passenger flow numbers increased considerably in this 2nd quarter showing excellent recovery rates versus the same period in 2019. The total amount of revenue generating passengers (departing passengers) handled in the first half of 2022 was recorded at 577,143 which represents a recovery of 89% versus that same period of 2019.
2nd Quarter 2022
A total recovery of 101% was reported for the 2nd quarter of 2022 versus that same quarter in 2019. In April 2022, AUA Airport handled 110,983 departing passengers. This was 6% more than March of 2022. In May 2022 AUA Airport handled 101,570 which was 8% less than the month before. In June the numbers increased considerably to 105,788 which was an increase of 4% versus May 2022. During these second quarter of 2022 245,889 passengers (pax) travelled to the US, 4,896 pax to Canada, 23,679 pax to Europe, 13,025 pax to the Netherlands Antilles, and 30,831 pax to Latin America.
An average outbound passenger load factor (PLF) (number of seats of the total seats on board an aircraft that are occupied when departing from AUA Airport) for the US Market of 90%, 89% and 90% were reported for respectively the months of April, May, and June. The average PLF for all markets was respectively 86%, 86% and 89% during that same period. In the second quarter of 2022 we surpassed the year average outbound PLF for all markets of 2019.
During the past 3 months, AUA Airport averaged 32 flights per day, which is 3 flights less than the average of 35 daily flights during the same period in 2019.
During April, May, and June AUA Airport recovered respectively 101%, 104% and 99% of the amount of departing passengers that were handled in those same months in 2019. The recovery in total for the second quarter of 2022 amounted to 101% versus 2019, which is up 24% points versus the recovery enjoyed in the first quarter of 2021.