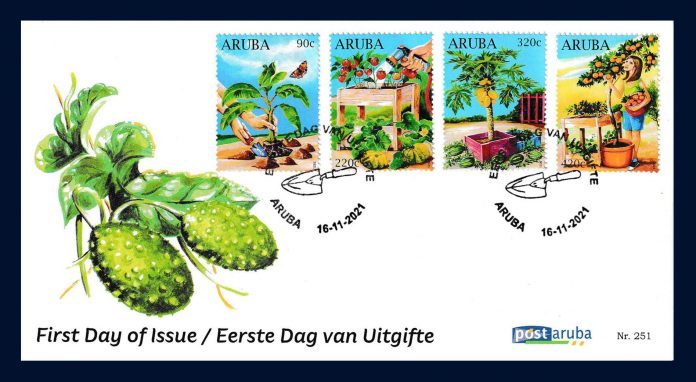 On November 16, 2021 Post Aruba N.V. emitted a new stamp series. This stamp series is named "Agriculture" and was designed by Mr. Elvis Tromp
About the designer:
Elvis Tromp is a self taught Aruban-born painter and graphic designer. Working mostly in oils, Elvis painted the charming Aruban landscapes that fascinate so many art-lovers for over 5 decades. Mr. Tromp has been painting Aruban landscapes since he was a child and enjoys making each scene a personal interpretation. He also finds time to paint portraits of friends and family.
Because Elvis is a self-taught artist, he had the opportunity to discover his environment, his style and technique in his own way. Although this was very hard and slow in the beginning, it was very positive and helped him working his way through life to become a respected and exhibited artist. During the last decade, Elvis has been experimenting with abstract and figurative paintings.
Elvis has illustrated several books and has also designed post stamps.
Description of the Agriculture stamp series:
Agriculture is the art and science of cultivating the soil, growing crops and raising livestock. It includes the preparation of plant and animal products for people to use and their distribution to the markets. The methods used, may vary from one part of the world to another.
Over the centuries, the growth of agriculture contributed to the rise of civilizations.
Adapting wild plants for people to use is called domestication.
Aruba is very dry and small (20 mile long) with an average rainfall of less than 20 inches per year. Because of that, we are forced to concentrate on growing several crops in small amounts in the same small area. This type of gardening attempts to grow plants closer to maximize space and minimize the need for weeding. Vertical farming is also an option. We can think of using cheap material as pallet-wood to build our own boxes and to use the minimal space and still be able to grow our vegetables and fruits. Everyone can afford to have a small aera in their garden and with a small investment, to cultivate their own vegetables and fruits.
Santa Rosa (department of Agriculture, livestock and fisheries) gives support to local farmers.
In Aruba we cultivate a wide variety of plants such as tomatoes, bell peppers, corn (maishi rabo), beans, watermelons, papaya, melons, peanuts, and cucumber. Those are grown mostly for personal consumption.
During the pandemic Covid 19 we realized how important it is to grow our own products. Besides helping Aruba diverse its' economy, this will one day in the future lead to the fact that the importation of vegetables and fruit will no longer be needed and we will depend solely on ourselves and on our own farmers for fresh vegetables and fruits.
The designs show the procedure from planting to watering, to fruit bearing and harvesting, using self-made wooden boxes out of pallets (also vertical gardening), all concentrating in a limited space.
This stamps series consists of four stamps of the values 90c, 220c, 320c, 420c which makes it total of Awg.10.50 for the series. And it is also accompanied by a First Day Cover envelope at the price of Awg.13,50. These are available at all the Post Aruba locations, namely in Oranjestad and San Nicolas.
Make sure that you have this stamp series in your collection as the stock is limited.
For more information on the "Agriculture" issue please visit the Facebook page: Aruba Stamps or Webpage: postaruba.com/philatelic/