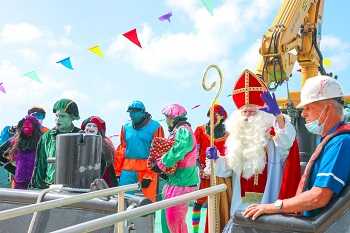 Last Sunday, the Minister of Culture, Xiomara Maduro welcomed Sinterklaas and his helpers in Aruba.
Due to COVID-19, the organizers did not hold a public activity to welcome Sinterklaas. Children could follow the arrival of Sinterklaas and its helpers via a television program. The Sinterklaas Foundation organized a program that included storytelling, dance, singing, cupcake making, magic, drawing, and prizes.
In her speech, the Minister asked Sinterklaas to take COVID-19 away in his bag because COVID is naughty. It prevented our country from leading a normal, healthy, and quiet life. The Minister thanked Sinterklaas and his helpers, the foundation, and those who contributed to the beautiful welcome program for Sinterklaas.
History of Sinterklaas
Based on St. Nicolas, the patron saint of children, Sinterklaas (the name is a contraction of Sint Nikolaas) is a legendary Christmas figure celebrated in the Netherlands. Although similar to Santa Claus in that he is an older man with a full, white beard who wears red, Sinterklaas is a more serious figure, donning a bishop's headdress and carrying a long, curled shepherd's staff. The Dutch celebrate the Feast of Sinterklaas honoring the life of St. Nicholas, and although St. Nicholas is always shown wearing his bishop's attire, the Dutch tend to see him as a kindly old man, rather than as a Catholic saint. The result is that Sinterklaas is celebrated by Dutch people of all ages and beliefs, without any real religious connotations.