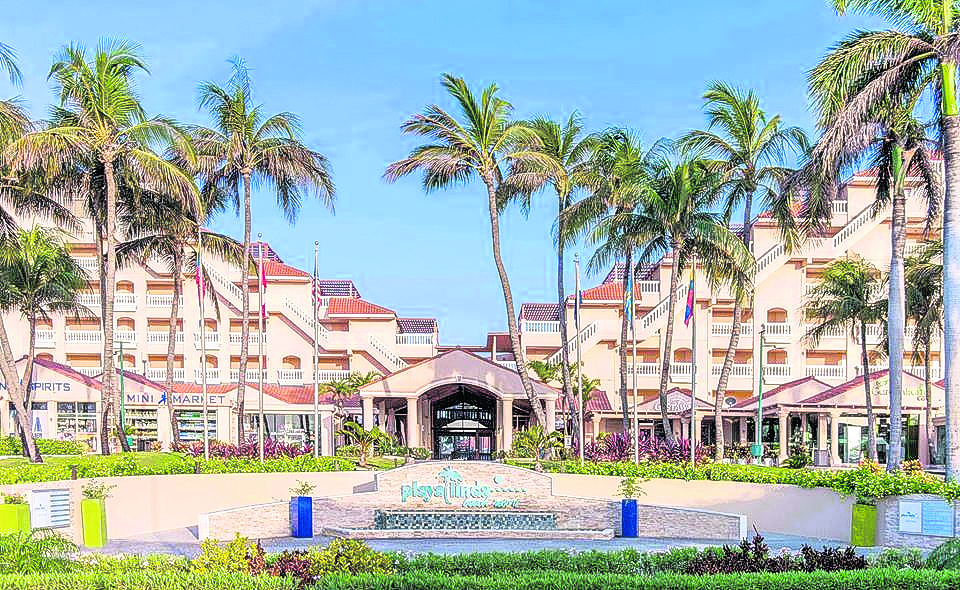 PALM BEACH — In the fifties the importance of the construction of a beach front tourist hotel was recognized. In early 1953, a contest was held for the best design of a tourist hotel on Palm Beach. The winning concept was the `Basi-Ruti' project, submitted by Ernst Bartels and meant to be financed by government funds. This plan was initially rejected as 'not feasible' but revived at the end of 1953, when it was endorsed by businessman Neme, who was also the owner of the Coral Strand Hotel.
Construction started a year later, in December 1954. It would take approximately three years for this project to be completed. In February 1957 the first tourist hotel on Palm Beach, called Basi-Ruti Hotel, officially opened its doors. The Basi-Ruti hotel was a hotel with bungalows, spread over the white sand of Palm Beach. In 1958, Dutch Princess Beatrix stayed there during her visit to Aruba. Basi-Ruti operated for approximately 25 years after it was handed over to a restaurant called Alfredo's Restaurant. After being abandon for many years, it would later be the home of a new timeshare resort, Playa Linda Beach Resort.
Almost two decades after the construction of Basi-Ruti the Aruban developer Raymond Maduro, considered a pioneer in Aruba's timeshare industry, succeeded in convincing financial institutions that timeshare would sell in Aruba. Consequently the Aruba Beach Club opened its doors to the public on February 14, 1977 as the first timeshare resort in Aruba with 133 units. Aruba Beach Club was only the eight timeshare resort within the largest timeshare exchange company, RCI, which today boast more than 6,000 timeshare resorts around the world and is only one of various exchange companies. It took only four years before the second timeshare resort was opened, namely Playa Linda Beach Resort.
Construction of Playa Linda
Playa Linda Beach Resort was constructed in three phases. The first phase started in March, 1981 (the south wing). All three of its construction phases were realized through the efforts of a team of local, visionary industry leaders, including developer Raymond Maduro of Sun Development, architect Dan Oduber, contractor Henk Bijen of Albo Aruba and René Nieuwkerk, who was Playa Linda's first general manager. Each played their part in contributing to the Playa Linda as it is today, distinctive for its design and remarkable for its upscale, yet still homey atmosphere.
Opening of Playa Linda
Since the opening, Playa Linda has led the way in defining island comfort and ambiance as well as demonstrating a dedication to sustainable development. Playa Linda was the first to put chickees on the beach, bringing in Seminole Indians from Florida for their construction, and was the first resort on Aruba to offer a free-form pool as well as a lush, mature garden.
Playa Linda has maintained its high-level standards by carrying out a regular schedule of capital investments, and had undergone a full renovation at about the time of its 25th year.
The Playa Linda Beach Resort offers utmost in comfort, community and unrivaled island and ocean-front views. For over thirty years, the beachfront, timeshare property has welcomed members and guests from all parts of the globe. Playa Linda is a participating resort within the exchange networks of both RCI and Interval International. Playa Linda boasts a total of 215 well-appointed suites, ranging from units including studio, one-bedroom, two-bedroom as well as townhouse apartments and penthouse accommodations. Each spacious suite provides modern comforts while maintaining a sense of place and an island charm.
All units feature a fully-equipped kitchen, Wi-Fi, flat-screen TV with premium, high definition channels, and on-site laundry facilities. The property also offers two swimming pools, fitness center, restorative spa, a mini-market and shopping arcade, with well-balanced array of both dining and shopping options. A fully-engaged, friendly staff, with front line support offered through member and guest services, a concierge as well as an activities department, helps further enhance guest's satisfaction. The members at PLBR are mainly of American origin (70%), 20% are Latin Americans and 10% European.
The resorts highly-identifiable, many tiered design has been a part of the island's landscape for almost the entire length of Aruba's tourism industry, and holds the distinction of being one of the island's first timeshare options. In recent years, Playa Linda has endeavored to realize environmentally-friendly operations, and was the first resort on Palm Beach to achieve ISO-14001 certification. Playa Linda won the RCI Gold Crown Award for more than twenty six consecutive years, a designation given to resorts that have attained the highest level of excellence in resort accommodations and hospitality. Interval International also bestowed Premier Status on the resort for more than 15 years.
The success of the resort throughout the years is clearly demonstrated in its almost sold-out status year-round, almost right from the start, and with many of the original owners of the resort still returning each year as well as also bringing in other family members and friends. Today, owners at the Playa Linda Beach Resort can compose different generations of the same family group. Loyalty and love of the Playa Linda is not only shown in its number of original owners, but also in several members of the staff who are still at the resort, thirty five plus years later. By providing training and support to employees, Playa Linda has enabled each member of its staff the opportunity to reach his or her potential and to guarantee members and guests the best possible service.