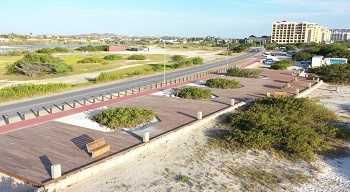 The Minister of Tourism, Health and Sports, Mr. Dangui Oduber, announced that the Malmok Boardwalk is ready.
The project started in February 2019 and was carried out in two phases. This project was funded by the Tourism Product Enhancement Fund (TPEF). This was a necessary project to improve the area in the high rise hotels. The Malmok Boardwalk gives the community an ideal location for those who exercise and also to encourage others to exercise.
The Malmok Boardwalk extends from the Arashi intersection to the Fishermen Huts area. Phase 1 of the project consisted of 240 meters of hardwood including pavers. It includes reflective bollards to protect pedestrians from nearby traffic and to demarcate the parking areas.
The second and final phase was the construction of the pedestrian walkway, which consists of a concrete walkway, pavement with cobblestones, posts, more lighting and a promenade at the Fishermen Huts. The second phase also includes a newly built central reservation near the intersection leading to the Fishermen Huts parking lot.