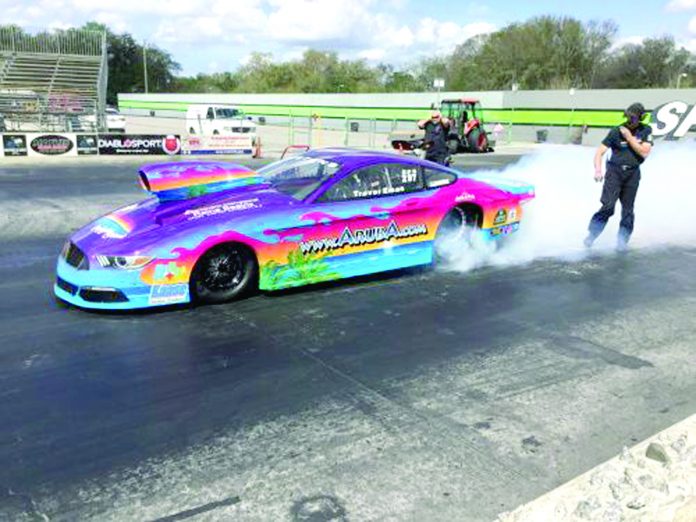 This year has devastated racing capabilities unlike any other. Unfortunately for Team Aruba, it stopped them in their tracks completely. "Aside from many races cancelling, Aruba was also on a border lockdown," driver Trevor Eman explained. "So traveling to races – even if there were races – would have been impossible."
Fortunately, restrictions are lifting everywhere, including Aruba. The Mountain Motor Pro Stock Team is ready to get back on track. They are joining the 2020 NHRA tour at the Mopar Express Lane NHRA Midwest Nationals presented by Pennzoil just outside of St. Louis.
"We look forward to being back at a race," Eman continued. "We are excited to take our Aruba Airport Authority sponsored Mustang back to competition and look forward to bringing an NHRA trophy back to Aruba.
"Life in 2020 has definitely been different. Never in my life did I ever think flights would stop coming to and leaving Aruba. But that happened. We now understand how we need to live and move forward in life around these difficult times, and we feel getting back to the track and bringing awareness of the precautions our island is taking is part of getting back on track."
With the borders open and things slowly getting back to normal, Eman is ready to make up for lost time, both on track and in the tourism industry, which is essential to Aruba.
"We are a tourist destination, and tourism is our primary economy. Team Aruba promoting our island country and bringing awareness around these circumstances are now both just as important for Aruba to continue being the 'One Happy Island'. This way hopefully we get visitors back to our beautiful island and start the road to living life normally.
"Our borders are back open, we are welcoming back tourists to the island, so now we can squeeze in a race and have some 200mph fun before the end of a very out of place 2020."
Follow Team Aruba on Facebook and Twitter. Find race results, team updates, videos and photos. Also leave your comments to cheer on Team Aruba!