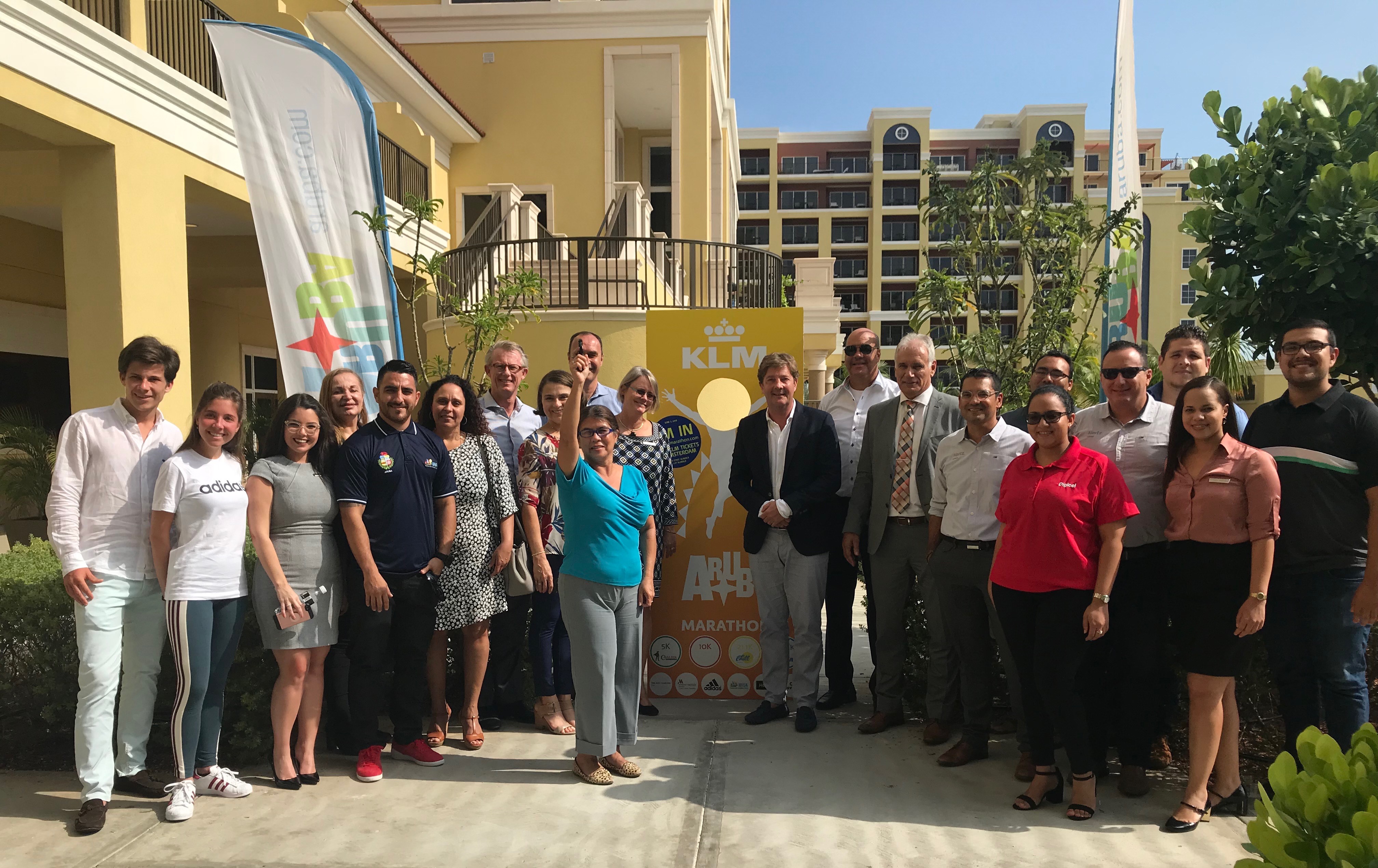 PALM BEACH – On Monday, March 5th 2018, the official start shot KLM Aruba Marathon given by Ms.Patricia Portier, Policy Advisor and acting director of IBiSA for the official launch of the first edition of the KLM Aruba Marathon in front of the press, partners and invited guests. This first edition will take place on Sunday, June 3rd, 2018. The Start & Finish location will be at the Marriott Resort & Stellaris Casino and the Ritz-Carlton. With a choice of 4 distances, there is a suitable distance for everyone: KLM Marathon, Chill Half Marathon, 10 KM and Cavalier 5 KM.
Mr.Kees van Muiswinkel, Chairman and Race Director of the Foundation Run in the Sun, enthusiastically presented the ambition of the KLM Aruba Marathon: "For the first edition, we expect to welcome between 1,500 and 2,000 participants of which approximately one-third will come from abroad. 500 participants are currently registered online. Some of them are famous world record marathon runners, who completed the numerous marathons in countries around the World. They will enjoy their "RUN-cation" in Aruba.
We are proud that from the top 5 runners, 4 runners will run the first race in Aruba: Nr 1: Brent Weigner (151 countries), Nr 2: John Wallace (132 Countries), Nr 4: Peter Bennett and Nguyen (117 countries)." The Foundation Run in the Sun is founded in 2014 to enhance tourism, running and a healthier lifestyle in the Dutch Caribbean. In Curacao we organize the KLM Curacao Marathon, in The Netherlands the "Curacao Marathon on Scheveningen Beach" and this year for the first time the "Aruba International Marathon".
Our races are organized on an international level (AIMS/IAAF certified) and because of the
various distances, accessible for everybody. It is our primary goal to make our running events an unforgettable lifetime experience.
-With four (4) distances there is a suitable distance for everyone.
-The 5K and 10 K is for runners and walkers.
-Participation internationally and locally, men and women.
-Each participant receives a personal (bib) race number, online time registration, cotton event T-shirt, luxury medal, plenty of water posts including sports drink and fruit.
-Everyone who registers and pays before may 15th receives a race/bib number with their name on it (until the limit of 1500 participants is reached).
-Beautiful course along the spectacular scenery of Aruba
-Free App with 'Live Track & Trace'. Family and friends can follow each participant.
-Free certificate for each participant with their name and distance.
-Finish of all distances will be on the beach in between the Marriott Resort and Ritz-Carlton, followed by the Awards ceremony with prizes for the numbers 1 to 3 man/woman and man "After party on the Beach."
-DRI-Fit Running shirt, Singlet, Pasta Party, Finish photo & video by Marathon photos.com are optional.
In addition to ensuring a festive and sporting atmosphere, the safety of the participants and the public is of course the highest priority Certified Race: Mr. Wim Jonkman, AA level Measurer from AIMS / IAAF measured and certified the course so that the KLM Aruba Marathon is an official race. AIMS is the Association of International Marathons and Distance
with International Association of Athletic Federations (IAAF) on all matters related to international road races.
Everybody can register online, pay online (or pay at IBiSA) via the website www.klmarubamarathon.com. Mrs. Tjin Asjoe-Croe, CEO of A.T.A. / Mrs. Iglesias (Aruba Tourism Authority) welcomes the KLM Marathon to Aruba. "We are truly thrilled to welcome the first KLM Marathon to our One happy island of Aruba, on June 3, 2018. Attracting marathon runners from around the world, this international "run-cation" unites tourism interests amongst the on-and off-island partners, and incites global travel for leisure and sporting activity.
Having already been listed on the main World Marathon Calendar as a key location to experience, we anticipate having numerous athletes participate. We eagerly await watching each contestant showcase their talents, and look forward to welcoming them to our Caribbean oasis and highlighting our diverse terrain." said Ronella Tjin Asjoe-Croes, CEO of Aruba Tourism Authority Mr. Cees Ursem, KLM Manager Aruba, Bonaire and Curacao, emphasizes that KLM is proud to be the title sponsor of the first Aruba Marathon and announces a special campaign.
Every participant from Aruba, Bonaire and Curacao has a chance to win two (2) KLM round-trip tickets to Amsterdam. The unique bib number of participants is their lottery number. Directly after the Awards Ceremony of the KLM Aruba Marathon this "Tombola" will take place. Mr.Tom Calame, General Manager of the Aruba Marriott Resort & Stellaris Casino/ Ms.Louella Brezovar-van Veen, General Manager of The Ritz-Carlton are also very happy that The Marriott ResortAruba and The Ritz-Carlton Aruba will be the Start & Finish Hotels of the KLM Aruba Marathon, which contributes to the international success of the Marathon.
The Pasta Party and Marathon Expo will also be hosted by The Marriott Resort/ The Ritz-Carlton. Mr.David Mulder, Director of Cavalier Logistics is the official logistic partner of the event and distance sponsor of the 5K. Cavalier will also invite their clients and business relations to participate in this run and the pasta party. Mr.Vincent Solognier, General Manager of Hertz Lease and Hertz Car-rental Aruba (and multiple Marathon Runner), is the official Car Rental sponsor of the event because of its International and Tourist characteristics.
He is happy to be able to contribute and to support a main sports event in Aruba. Look
out for the Hertz Lease Jeep Wrangler that will drive in front of the first Runner and the multiple water stations with a "Hertz Car" along the route that will play music to support and motivate the runners. "Hertz Aruba, We're here to get you there"
ADIDAS Marketing Manager Mr. Jonathan Wever is also enthusiastic about the KLM Aruba Marathon: "It is great that Aruba will have it's own Marathon! This is the first Marathon in Aruba and the first AIMS/ IAAF Race in Aruba. This will enhance running and we would like to see all ADIDAS Athletes at the start." Instituto Biba Saludabel y Activo (IBiSA), Ms. Patricia Portier Policy Advisor thinks to have a Full Marathon distance on the Island of Aruba this will be a stumulance for more people to start with walking and running and with a healthier life style.
IBiSA will help the organization of the Marathon and is full partner of the KLM Aruba Marathon. She hopes that many Runners and walkers of Aruba will participate in this Unique Race! Online registration and payment at IbiSA is also possible for the Klm Aruba marathon, all 4 distances.
Charity Participants can give a voluntary donation upon online registration. With these donations, a donation will be made to a primary school in Aruba. Partners, sponsors and volunteers KLM Aruba Marathon is made possible by a large number of partners, sponsors and volunteers. Besides the Aruba Tourism Authority (A.T.A) and KLM as title sponsor, sponsors for the specific distances Cavalier, and Chill by Balashi, there is close cooperation with IBiSA, the Aruba Athletics Federation, Start & Finish Hotel the Marriott Resort & The Ritz-Carlton, Hertz, Kooyman, The Red Cross, KPA and all other partners.
The organization wishes everyone a good preparation for their participation in the 1st edition of the KLM Aruba Marathon and is looking forward to working together with all partners and volunteers to make it a joint success.