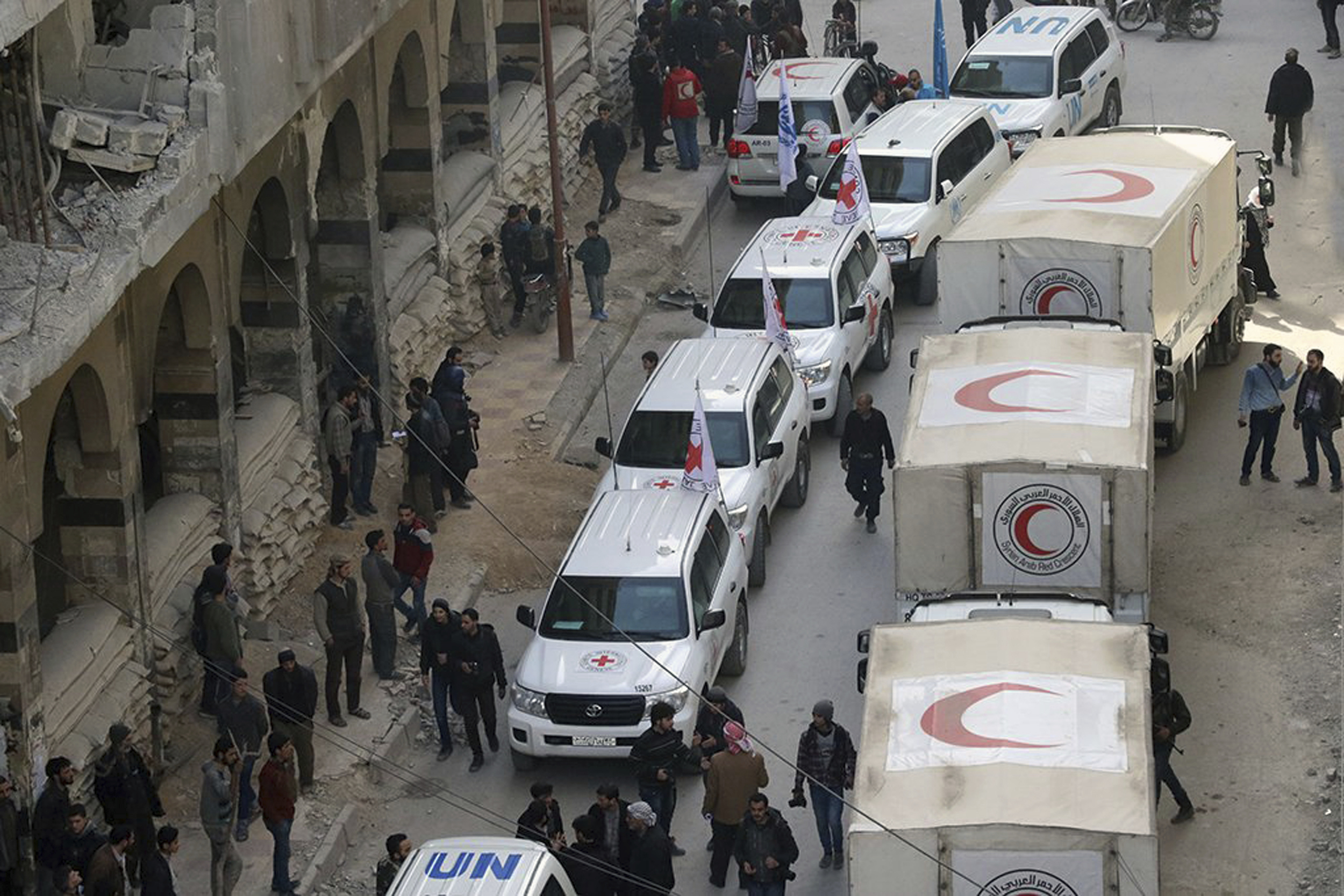 ZEINA KARAM
NATALIYA VASILYEVA
Associated Press
BEIRUT (AP) — A Russian military cargo plane crashed near an air base in Syria on Tuesday, killing all 39 Russian servicemen on board in a blow to Russian operations in Syria. The Russian military quickly insisted the plane was not shot down and blamed the crash on a technical error.
Meanwhile, shelling near the rebel-held eastern suburbs of Damascus killed dozens of people over the past 24 hours as President Bashar Assad's government, supported by the Russian military, pushed its assault on the capital's rebel-held suburbs. International aid workers on a rare humanitarian mission inside the besieged area described dramatic scenes of rescuers trying to pull corpses from the rubble of buildings and children who hadn't seen daylight in 15 days.
The mission on Monday to the area known as eastern Ghouta was cut short after the government shelling escalated while the aid workers were still inside, calling into question future aid shipments to the encircled region, the last major opposition stronghold near the capital. Opposition activists and a war monitor said 80 people were killed Monday — the deadliest day since the U.N. Security Council demanded a 30-day cease-fire for Syria — and at least nine were killed Tuesday.
"People were telling us very desperate stories. They are tired, they are angry. They don't want aid, what they want is the shelling to stop," Pawel Krzysiek, head of communications for the Syrian branch of the International Committee of the Red Cross, said Tuesday. He said thousands of families were huddled in underground shelters, reluctant to eat in front of each
other because of the pervasive hunger, and children who watched as aid workers tried to pull corpses from the rubble.
"No child should be witnessing this in their very early state of development. But the children of Douma and the children of eastern Ghouta unfortunately do, and that's what makes the situation very, very dramatic," he said. Monday's aid shipment was the first to enter eastern Ghouta amid weeks of a crippling siege and a government assault that has killed some 800 civilians since Feb. 18.
Aid agencies said Syrian authorities removed basic health supplies, including trauma and surgical kits and insulin, from the convoys before they set off. The U.N. said airstrikes and shelling in eastern Ghouta continued for hours while the convoy was unloading supplies.
"After nearly nine hours inside, the decision was made to leave for security reasons and to avoid jeopardizing the safety of humanitarian teams on the ground," said Jens Laerke, deputy spokesperson for the U.N.'s Office for the Coordination of Humanitarian Affairs.
As a result, 14 of the 46 trucks in the convoy were not able to fully offload critical humanitarian supplies. Laerke said the team found a desperate situation for people who have endured months without access to humanitarian aid. "Food for civilians was in short supply or prohibitively expensive and high rates of acute malnutrition were observed," he said.
Krzysiek said there was "no electricity so it was extremely dark and we had to go. But we left with heavy hearts because we knew that we are leaving people behind, we know what they will be going through." The violence called into question future aid deliveries. Another aid convoy is scheduled to enter eastern Ghouta on Thursday, but Laerke said security measures must be guaranteed for this to happen.
Pro-government forces have made swift gains since launching their offensive, seizing roughly 40 percent of eastern Ghouta territory in two weeks, according to the Britain-based Observatory for Human Rights monitoring group, and setting off a wave of displacement as civilians flee strikes and advancing forces. Airstrikes continued Tuesday. The opposition's Syrian Civil Defense search-and-rescue group reported at least nine people were killed in airstrikes on the town of Jisreen.
The group, also known as the White Helmets, said two of its volunteers, and 28 others, suffered difficulties breathing following shelling on the town of Hammouriyeh on Monday evening. It accused the government of using "poison gas." The Observatory reported 18 people suffered breathing difficulties, without attributing a cause. It was the eighth allegation of chlorine gas use reported by the Syrian American Medical Society this year.
The reports could not be independently confirmed, and Russia used its Security Council veto to freeze the work of a U.N. body investigating such reports earlier this year. The Syrian government, through the SANA state news agency, denied using chemical weapons.
Meanwhile, the Russian defense ministry extended an offer for armed rebels and their families — not just civilians — to leave eastern Ghouta through a safe corridor set up earlier for civilians, though none have left.
It said the rebels were free to leave with their weapons and families unhindered. Waiel Olwan, spokesman for one of the main rebel groups in eastern Ghouta, said the offer was part of Russia's "psychological warfare." He denied reports that rebels were negotiating an exit, adding that the fighters will continue to defend themselves as long as they are under attack.
The Russian Defense Ministry said Tuesday's crash of the An-26 military cargo plane occurred just 500 meters (1,600 feet) from the runway of Syria's Hemeimeem military base. It said the plane did not come under fire, adding it would conduct a full investigation. The base near the Mediterranean coast is far from the front lines of the conflict, but came under shelling
in December.
Russian military outposts in the country have also come under rebel attacks recently,
including a massive drone raid earlier this year involving 13 aircraft equipped with satellite navigation. It was the second Russian military plane to crash in Syria this year, after a Su-25 ground attack jet was struck by a portable air defense missile over northern Idlib province last month.