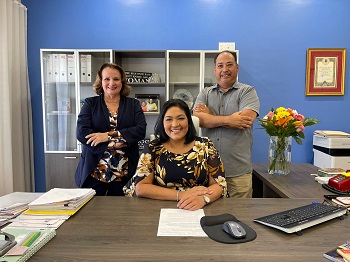 On the eve of the National Anthem and Flag celebrations, we remember one of the co-composers of the "Aruba Dushi Tera" national anthem, as well as a well-accomplished musician, Mr. Rufo Wever.
The documentary "Music is my life", exposes Rufo's passion for music, his patriotism, and all his efforts to document the music of many local musicians.
Rufo was a well-accomplished musician
Over the years, Aruba had many talented musicians, and Mr. Rufo was one of the top all-around musicians. He mastered many musical instruments and was a composer, arranger, and author of many music sheets. His gift made him stand out above many other musicians of his time. Thanks to Rufo Wever, we now have music sheets of many typical songs of Aruba since it was his passion to document other musicians' work. Rufo also wrote music sheets for the Caha di Orgel and the New Year Dande.
Rufo's love for Aruba was enormous
Many of his songs had Aruba in their title. Arubanita, is one of the best-known creations of Rufo. He was also co-composer of "Aruba Dushi Tera". Together with musicians like Padu Lampe and Lio Booi, Rufo showcased the popular Aruba Dushi Tera until it became the National Anthem of Aruba.
Documentary "Music is my life" of Mr. Rufo Wever
It was with the initiative of Rufo Wever's family, that Mrs. Vivian Wever and Mr. Norman Thijsen of Sky Television decided to produce the documentary "Music is my life"
This production will make it possible to remember Rufo Wever as an all-around musician. The music school that bears his name should inspire the younger generations.
The documentary "Music is my life" airs on March 17, 2022, on Nos Isla TV on channel 23 and Diario TV on channel 48, starting at 7:00 pm.
The Minister of Culture, Xiomara Maduro, is grateful to the Wever family, Sky Television and everyone who made this production a reality.