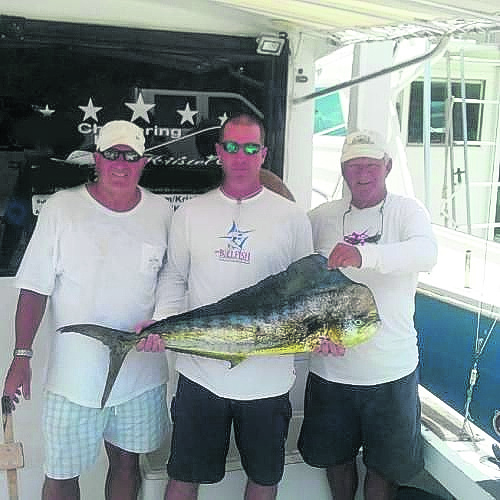 Miss the sunshine? Looking to escape the autumn blues? Or do you simply want to catch some fish this November? Whatever the case, Aruba's got you covered. With steady 88 degree temperatures, a colorful Caribbean backdrop, and insanely good fishing, Aruba's got everything a traveling angler could want.
November marks the start of peak season for deep sea fishing in Aruba. Just like in October, the seas are abundant with mighty Billfish such as Blue and White Marlin, as well as the Atlantic Sailfish. By mid-November, a new other pelagic predator comes to join the party. Ready your tackle, it's time for some Yellowfin fishing!
The only downside to hunting such large pelagics is that the seas can get a bit rough. If you're fishing with kids, you might want to keep to the reefs. But guess what? Reef fishing in Aruba is just as exciting!
The Caribbean "regulars", Wahoo and Mahi Mahi, mean that you can catch a tasty dinner on just a half day outing. The best part is, Aruba is full of colorful "hook and cook" restaurants that will gladly cook your catch for you.
Just the other day, a couple of lucky anglers had a great outing on the reefs with Captain Michael aboard Kristel Fishing. They both caught a bunch of fish, including two 20+ lb Wahoo! Not bad for just a four hour trip.
And if that wasn't enough reef fish, Snapper, Rainbow Runner and Kingfish will be glad to take your bait on any day of the week.
If you'd like to enjoy Aruba's inshore waterways, you'd be glad to know that Permit fishing is on fire! The baby Tarpon Aruba's known for aren't as abundant in November, but for those of you who'd like a challenge, there are good numbers of Bonefish to go for on the fly.
Captain of the Month.
Captain Michael Wever is one of Aruba's very best fishing guides. Captain Mike has been fishing since he was four years old, and driven a boat since the age of seven. Being a father of four and grandfather of one, Mike takes the safety of his guests very seriously. His 44 ft Striker is perfect for families fishing with their kids.
The boat is a spacious motor yacht, which can comfortably fit a party of 15. It's powered by two 450 HP engines, so you can be sure you'll get to your spot in no time. In terms of amenities, you'll have everything from an enclosed toilet, two beds and a kitchen, so you can feel comfortable embarking on a longer outing.
The boat is equipped with state of the art navigational systems, so you'll know exactly where to head for those big fish. Once you catch 'em, the onboard icebox will keep your catch nice and cool for the trip back. Speaking of catch, the crew will allow you to keep one third of the bounty, which they will cut and fillet for you, so you can enjoy that dinner in no time. Captain Mike provides all the gear as well as your licenses, so all you have to do is bring your lucky hat! Oh, and some sunscreen would be good, too. You may be fishing in November, but hey, this is Aruba we're talking about, where the fishing is never bad. So, what are you waiting for?
Start packing, and let's get that Aruba fishing adventure under way! q
Joris Zantvoort is Dutch and a writer at FishingBooker.com. He publishes a monthly fishing report for Aruba Today. The company works with 17 captains in Aruba that help him create this report containing information like: What is currently in the water? What can you catch? Also amazing pictures are being shared and part of the column shows the Captain of the Month.