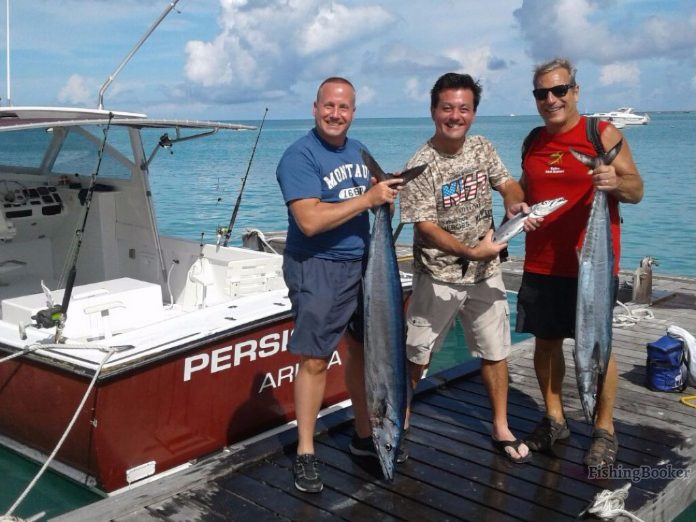 New Year – new you, the saying goes. Luckily, some things never change, and that's why fishing in Aruba is as good as ever. The colorful island is one of the Caribbean's premier fisheries, and with January temperatures hovering around 86°F, it's the perfect place to escape to this winter.
Aruba is one of the cloudier islands in the Caribbean. However, you'll be pleased to know that despite the clouds, January is one of the driest months here. That means all the fishing days you can think of, and no burning in the sun.
Fishing-wise, you'll have a whole range of species to choose from. Fly fishers will have their hands full wrestling Permit on the flats. These guys are abundant at this time, but they're also notoriously tricky to catch.
Of course, there are loads of other fish on offer, and they don't require as much skill. Hop on a charter boat and head for the reefs, the signature Aruban fish are right there! From huge Wahoo to speedy Barracudas, and tasty Mahis, the reefs are an angler's joy.
Just a few days ago, Captain Marcelino from Sunrise Charters in Noord took a party out for a half day trip, and boy did they have fun. The anglers caught four Wahoos, a Barracuda, a Mahi and a Kingfish, all in just a few hours of action! Just goes to show you how close to each other the fishing sweet spots are around here.
To round the experience off, the captain cleaned the catch for his guests, so they can bring it to one of the local restaurants for a tasty dinner. Talk about a perfect day of fishing.
Not in it for the meal? Head further offshore, and you'll find your challenge. The peak season for Sailfish and Marlin may be behind us, but there's still a chance you can nail one. If you'd really like to wrestle a monster, Bull Sharks are in bite mode.
No matter who you are, chances are Aruba has the fish you're after. Throw in the pleasant weather and some signature Aruban hospitality, and you've got the angling adventure of your dreams.
Captain of the Month
A true local expert, Marcelino has been fishing since the age of 12. Coming from a long line of fishermen, the Captain enjoys showing newbies how to fish. Marcelino's also an accomplished angling competitor, with all-tackle fishing tournament wins under his belt.
Marcelino fishes from his Puntra Bravo (Downeast), originally built in 2004. Powered by a 285HP Volvo Pent engine this pristine boat has a maximum cruising speed of 18 knots. You'll find all the amenities you need on board. There's a fighting chair, an enclosed toilet, an ice box and three bunk beds if you want to rest.
You'll have all the gear you need on board. For longer trips, the Captain will prepare snacks and drinks for you, as well. The crew will let you keep a third of the catch, which they will clean and fillet for you. Make sure to ask the Captain for a few restaurant recommendations. Cooking your catch in an Aruban restaurant is the perfect way to end your angling adventure!