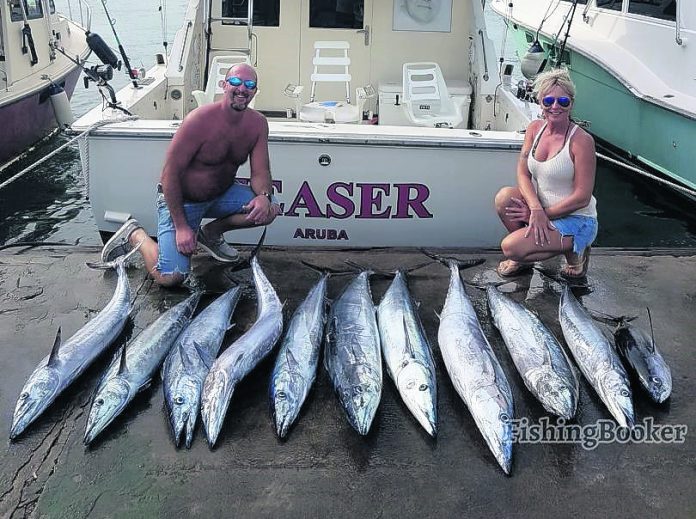 Already made plans for the summer? Too bad, you'll probably want to cancel those after you hear what Aruba's got in store. This June, you can bask in the warm Caribbean sun, and enjoy some of the best reel action of your life!
With temperatures averaging out around 90°, and some of the most colorful scenery in the entire Atlantic, this tropical paradise has got enough going for it on looks alone. But Aruba's got so much more to offer, especially in June.
The flats around the island are teeming with the likes of Snook and Tarpon. If you want to try your hand at fly fishing, there are a number of local fly fishing guides specializing in these sorts of outings. The best part is, they won't make a huge dent in your budget – you can find a private half day outing for under $300.
Want something a little more brag-worthy? Aruba's deep sea fishing has you covered. Most of the island's big game fishing charters leave from Oranjestad and Noord. One thing you'll notice is that the waterbed around the island drops off as soon as you leave the dock. This means that you can reach the big game fishing grounds within just a few miles from the shore.
In June, you'll have a field day with Mahi Mahi, Yellowfin and Blackfin Tuna, and the ever-abundant Wahoo. Speaking of Wahoo, Captain Milton aboard Teaser Charters caught ten of them on a single trip!
We know what's going through your mind – time to cancel those old summer plans. And we don't blame you, thinking about fishing in Aruba will do that to you.
Captain of the Month – Milton Pichardo
Coming from a family of fishermen, Captain Milton aboard Teaser Charters has been fishing the Aruban waters ever since he could hold a rod. He earned his stripes helping his older brother as a first mate, and started his own charter business at the age of 20.
Today, Captain Milton is a big game fishing expert, and a record-setting tournament winner.
You'll spend your outing with Captain Milton aboard the beautiful Teaser, a 35' Bertram sportfisher. Powered by two 315 HP Cummins engines, this vessel can carry 6 passengers and has all the amenities you'll need for a comfortable outing on the water. Among other things, the Teaser boasts an enclosed toilet, a fighting chair, life jackets, and air-conditioning.
The Captain enjoys showing newbies how to fish, so feel free to bring your kids along. At the end of your outing, you'll split your catch 50-50 with the crew. To make your experience complete, the crew clean and fillet your fish, so you can enjoy it over a beautiful Aruban sunset.
By Joris Zantvoort
https://fishingbooker.com/destinations/country/aw