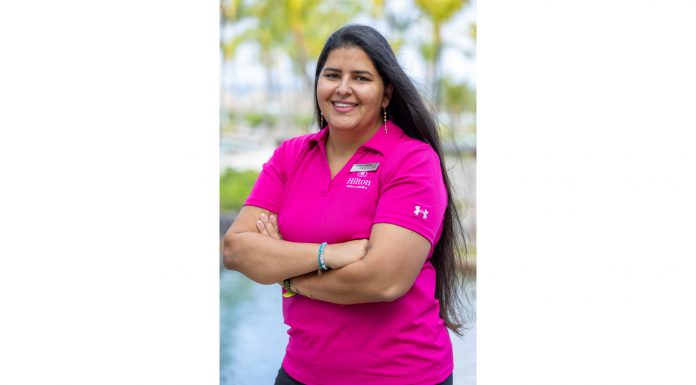 Nephtaly Croes was appointed Director of Engineering, effective July 16th, after serving as Assistant Director for the past 2 years. Nephtaly assisted Director of Engineering, Ramon Avila, who worked on the island for four years before returning to his home, in Puerto Rico, at the beginning of the year.
Upon his departure, it gave Avila great pleasure to leave his beloved engineering department in the hands of a highly-qualified woman, Nephtaly, who started overseeing the departments' activities from then on.
Having graduated as an industrial engineer, Nephtaly was looking for work on the island in her field, and interviewed at the Hilton Aruba Caribbean Resort & Casino for the engineering department, though in possession of zero hospitality experience.
She was at the time doing special projects for WEB, the island's water and electricity plant and later at the Bubali Plas Plant, and when she least expected it, the resort called back, for a second interview.
It was stressful, she admits, but the response was positive, and when she accepted the offer, she was sent on to Florida, for a 6-week field experience tour, at a number of Hilton resorts in the Orlando area, so she could get insight into that branch of engineering.
Nephtaly reports it was a helpful and educational opportunity, from which she benefitted greatly. Upon her return from the USA, she joined the company, in January 2019, overseeing electricians, carpenters, painters, and a crew of 27. She is in charge of gardens, pools, rooms, and public places, even the bird interaction garden, feeling right at home and at ease, getting to know every nook and cranny of the facility, walking, listening, learning, especially from her long-time supervisors.
"I am still learning, every day," she says, and since the retirement of Avila, she has demonstrated excellent leadership and organizational skills, and has proven a reliable steward for the Grande Dame, of Palm Beach.
During a recent current interruption, she found herself at room service, alongside other department heads, lending a helping hand. "I fit right in, and I am here to stay," she declares.q