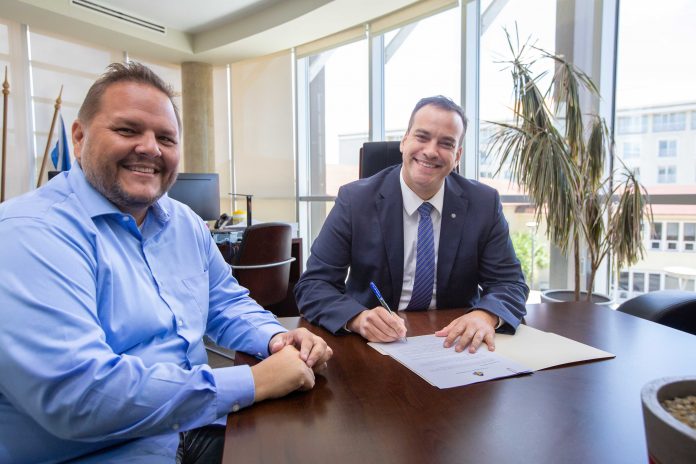 For the past few months, a variety of preparation works were completed related to the plan to revitalize Oranjestad. Minister of Economic Affairs, Communication and Sustainable Development, Mr. Geoffrey Wever, held a meeting with various stakeholders in this phase of preparations, in order to get a wide view of the current needs, as well as take inventory of the requirements – legal, commercial, infrastructural, etc. – in order to revitalize Aruba's city centre.
During the first work meeting last Tuesday, 5th of July, the official act of signing between the ministry of Economic Affairs, Communication and Sustainable Development with the company Office for Infrastructure & Architecture VBA took place.
In the context of the plan to revitalize Oranjestad, it will be important to visualize designs in order to have better planning. Architect Mr. Raffy Kock, owner of O4IA, was approached seeing his knowledge and existing experience in projects of this magnitude. O4IA will have the main task of translating the vision into a concrete plan and design, of just value and one that can be executed realistically.
"We are going to have to highlight that which makes the city centre unique, and promote new economic activity for the area beyond simply shopping", minister Wever commented. The consultations with all stakeholders will continue during and after this current process, to guarantee that this plan can reflect the needs and desires of everyone who is part of our city centre, and also for all our visitors, according to a press release from the government.
"In the next months ahead we will be moving closer to the realization of the plan to revitalize the city centre, and will keep sharing this with our community", minister Geoffrey Wever said.