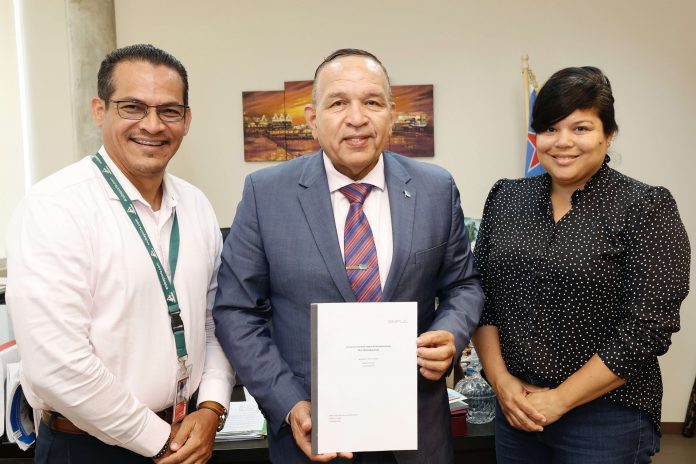 (Oranjestad)—Recently, Minister Endy Croes met with Mr. Edgar Croes and Mrs. Stephanie Croes from EduCampus. EduCampus Aruba is a new style of education on the island that started back in January of 2020. EduCampus provides its students a combined structure of education, where students ages 8 to 18 receive online and in-person classes. During this meeting with the minister, the institution handed in their annual budget costs for 2021.
They have also informed that they are already working on the annual budget costs for 2022, and they will turn this in in a few weeks. EduCamus focuses as much on the students with talent for academia, as well as those talented in sports. EduCampus offers their students the opportunity to learn on their own terms.
The school has 214 students, 74 of which are athletes. EduCampus provides these athletes the opportunity to practice their sports in combination with their studies, seeing as they are not tide down to a strict schedule. Athletes that attend this school and that have to train for a tournament are given the opportunity to practice in the morning if necessary. This type of education is accredited by Cognia, so students who finish their studies at EduCampus can continue their studies in the US or The Netherlands.
By the end of April 2023, EduCampus wants to launch another program for elite athletes that have to train harder for their tournaments. The student records are stored in an American database (SAA database), where American schools can keep up with their growth here in order to see if these students are able to obtain scholarships. They have also informed that they work with an immigration lawyer, who advises them on the key points they need to be aware of in terms of immigration law, as to avoid any complications for the students during the process of obtaining Visas.
EduCampus has strict contact with this lawyer who advises students from the institution. Minister Endy Croes congratulates EduCampus for their good work and he wishes them success!