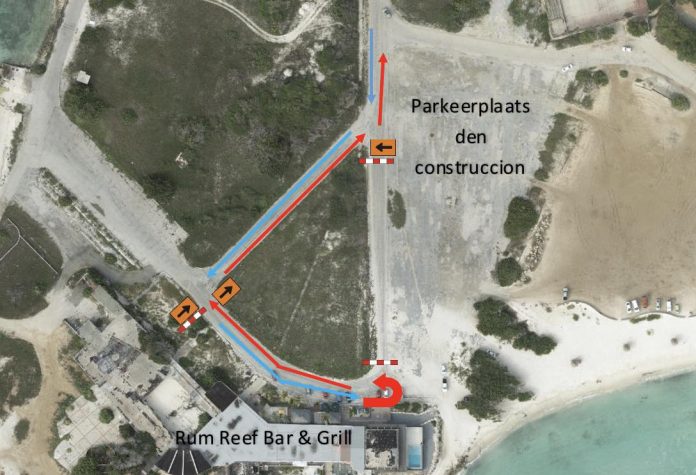 (Oranjestad)—The Department of Public Works (DOW) informed through their social media that starting Wednesday, March 15th, they will temporarily be closing down the one-way road that is parallel to the parking lot in construction at Baby Beach.
This roadway to Rum Reef Bar & Grill will temporarily change for traffic from both sides. The reason for this is to remove the sand hills in the area and to remove tube work from underneath the roadway.
The roadway will be closed for all traffic between 7am and 4pm, and this project will last for 7 work days.
The Baby Beach project is in the second phase of its execution, which is especially dedicated for the new parking lot, as Minister of Tourism, Dangui Oduber, assured last February.
This phase of the project also includes setting up new light poles and a new roundabout. There will be public bathroom for all visitors, as well as two food kiosks that will especially serve traditional Aruban and Caribbean snacks and cuisine.
In the coming months, the Aruban government will begin the execution for phase 3 of the project. In this phase, the 2 tennis courts in the area will be renewed. Additionally, there will also be a new multifunctional court built where visitors can play a variety of sports, including beach tennis, beach volley and beach soccer. The hut area in between the two tennis courts will be remodeled into a restaurant and the stairs will be renewed as well using mosaic art. The turtle wall will be pushed further back and the area will be filled with white sand, thus further expanding the beach.