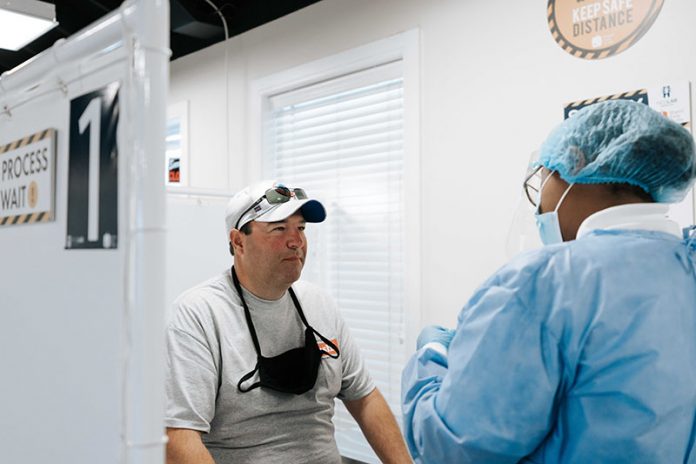 While on vacation, the last thing you need to worry about is what to do or where to go for your COVID-19 testing. Many countries, including the U.S. require for all passengers heading back home to present with a negative test result for PCR or Antigen 72 hours prior to departure.
MEDLAB Aruba is an accredited ISO 15189:2012 OGA-LE 23-08 laboratory with over 30 years of experience on the island. The laboratory complies with the Department of Public Health of Aruba, and the Centers for Disease Control and Prevention (CDC) requirements for COVID -19 testing. MEDLAB Aruba has been assigned as one of the private laboratories authorized to perform "Fit-2-Fly" testing for departing passengers.
Hassle free scheduling – QR-code
The laboratory has invested on the only fully integrated digital booking platform on the island that allows guests to pre-register for the testing prior to coming to Aruba and have all their information incorporated upon entry to any of the available testing centers. Guests will receive a confirmation email with QR-code that will be requested upon day of testing to facilitate a faster turn-around time for your results.
Testing options
Offering three method of testing gives you, our island visitors, the possibility to choose which service is at your convenience. Recommended time to complete test prior to departure is 48 (72) hours. We also request for you to bring your passport to the appointment.
Testing Option 1: Walk-In service at our location in Noord Medical Center (NMC), Noord 63 or at Superfood COVID Testing Center. You may also book online at WWW.COVIDARUBA.COM and choose location.
Testing Option 2: On-site at participating hotels. Only guests staying on these properties will be allowed to conduct the test. Appointment is also made online at WWW.COVIDARUBA.COM.
The participating hotels with testing facilities are Aruba Marriott Resort (Stellaris, Ocean and Surf Club), Holiday Inn, Playa Linda Beach Resort, RIU Antillas, RIU Palace, Eagle Resort, Costa Linda Beach Resort, Bucuti & Tara Beach Resort, Manchebo Beach Resort, Casa del Mar & Aruba Beach Club, Caribbean Palm Village.
Testing Option 3: Airbnb/ Other hotel location. We come to you for the test together with our vehicular Mobile Health Test Unit. We require a minimum of six people for this service. Request/ Book appointment through WhatsApp number +297 5975548.
Price
Offering a great rate for the testing. The Antigen test is at $50 and the PCR at $100. Payment method is card (preferred), cash (hygiene measures).
The COVID Test is not covered by the Aruba Visitor's Insurance, but you are able to seek reimbursement once back home.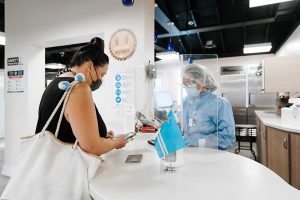 Results
Turn-around time for results is within 24 hours. Result is sent electronically to your email (check spam/ junk folder)
For more information visit www.covidaruba.com, call us at +297 5975548 or email us at covid@lab.aw.