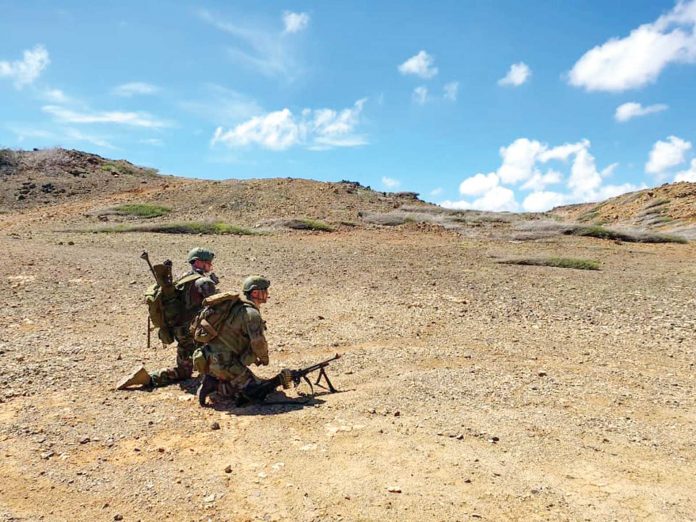 For the next two weeks, Aruba will be the setting for the military exercise "Diabel Preto" ("Black Devil"; reference to the heroic marines at the Maas bridges in Rotterdam during World War II).
From September 22 to October 2, 120 soldiers participate in a varied program, in which the leadership qualities of the soldiers are trained. The units practice basic infantry skills such as amphibious assault, shooting, patrolling and moving VIPs in a crisis situation. Civilians of Aruba can witness these defense activities for the next two weeks.
The exercise is important to continue to guarantee the basic readiness of the military in Aruba. In addition, there is a great emphasis on the leadership development of the officers and non-commissioned officers. During Diabel Preto they will be challenged with different scenarios. Defense attaches great importance to the development of these leaders within the organization.
COVID-19
During Diabel Preto, the COVID measures are fully observed. Rules such as "good hand hygiene", "social distancing" and "stay at home in case of complaints" are applied in full. All participating soldiers were asked in advance about the presence of suspicious complaints or symptoms. In case of complaints, the soldier will be excluded from further participation in the exercise after consulting a doctor.
Defense tasks for the Dutch Caribbean
The Netherlands is responsible for the implementation of the defense tasks of the Kingdom of the Netherlands in the Caribbean.
Military tasks in the Caribbean
The 800 armed forces personnel in the Caribbean are tasked with:
protecting the borders of the Caribbean part of the Kingdom of the Netherlands;
supporting civil authorities;
maintaining the (inter)national rule of law  in the context of, for example:

The international drug trade. Because of the location of its islands, the Caribbean is vulnerable to drug trafficking by sea. The navy is part of Joint Inter Agency Task Force South, an international organization that conducts operations to counter drug trafficking.
Military assistance. The navy's military units provide humanitarian assistance or maintain public order following disasters or accidents caused by the passage of hurricanes, for example. Each year, the navy is on standby from 1 June to 1 December to perform these tasks.
Illegal fishing and environmental offences. The navy supports the Dutch Caribbean Coastguard in conducting surveillance and taking action against illegal fishing and environmental offences. The navy also assists in search and rescue missions in Caribbean waters.