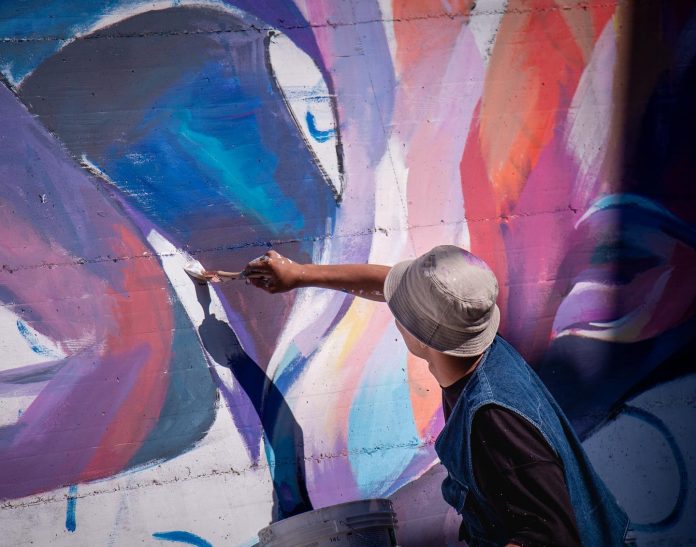 SANNICOLAS/ARTFAIR2022: The word is out, Aruba is becoming the Art Centrum to be in, where all renowned muralist wants to exhibit their art pieces. Most of the International muralists that visited our Island has always been primarily from Europe, Latin and Central America, The Balkans, but never have we been blessed by artists from the Eastern World. Aruba, gathered the finest muralists from most part of the world and made the streets of San Nicolas in a want to see and want to be in, urban revolving out door Gallery.
ArtisA, the holding of all that happens with the murals and Aruba Art Fair is evolving, thinking in global happenings such as extinction of the species, has caught the attention of the young upcoming artist and muralist LE HO from Taiwan, the Republic of China.
The subject matter of Le Ho's mural works, center around animals being the carriers of information, depicting human emotions, stories and beliefs. These creatures enable their audience to read into the values and vibes through their various forms.
"Dream & Longings is the visions I describe in my art, wishing it would cast light on even the most hopeless folks. Although throughout our world frustration exists, I want to make people brighter when they see art."
Taiwanese citizens in a number of noted villages have turned street art to entice tourists and younger generations back to the rural village life, in hope to liven up places that have been abandoned due to urbanization, attracting the youth to work and study in major city districts, such as Le Ho.
After years of searching, exploration and participation in the realm of public art, Le Ho's creature creations have become a unique symbol of vitality, around the world. He has participated in the International Warriors Street Art Festival for three consecutive sessions, since 2017.
Aruba is excited to receive Le Ho from Taiwan, such a marvelous young artist, that travels almost half around the world for 24 hours to be in the sun and savior our blue waters and white sand.
Aruba Art Fair is back, with amongst them sublime artists, such as Wild Drawing WD street artist, from Bali, Indonesia. Stathis Tsavalias, better known as Insane 51, from Athens, Greece, who is renowned for his outstanding anaglyphic art on mural canvasses.
Chemis, Czech Republic, recurrent invited muralist that not only proposed to be wed, on this lovely Island, but had most of the Aruba Art Fair gang presented at the wedding as well, will be back now for 5 years in a row.
Mr. Dheo, from Portugal, creating and reflecting a piece of Aruba's history on a gigantic mural, depicting colors and vivid dancers in the sun.
Jenna Schwartz, first time in Aruba, is the sweetest rebel street artist from Canada, she explores the human sentiment and promotes the celebration of people and diversity that can transform a community through public murals.
Art Fair 2022, November 4.5.6, 2022, will be an explosion of Arts where more than 150 local and international artists will expose their arts, and more than 15 International Artists will leave their artistic mark on Aruba's largest murals in the long NOT forgotten sunrise city San Nicolas, the Art Capital of the Caribbean, named by Forbes.
ArtisA in partnership with Aruba Tourism Authority Sui Generis invites you to follow us via www. Artfairaruba.com or visit us at ArtisA Gallery in San Nicolas.